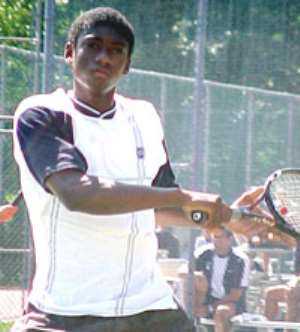 Accra, May 25, GNA - "After all the promises made to us before our departure to Namibia have not been fulfilled making us stranded here, we feel let down and we have been left in a limbo.
We have hence decided to take a hard look before coming down for subsequent national assignments"
There were the words of stranded players of the Golden Rackets who have been left to their fate in the country without return tickets to their bases in Europe and America after qualifying the country to Zone Two of the Davis Cup competition recently in far away Namibia.
The "abandoned players" who spoke to GNA Sports said they have been running around the Sports Ministry and Sports Council in a bid to get their return tickets to enable them get back to the basis but nothing seems to be working.
Consequently, in view of the prevailing circumstances Solomon Koomson, a member of the team who made his Davis Cup debut had to delay his return to his US base twice from his original scheduled return on Friday May 21 to Monday 24 and as things stand now he will have to reschedule his departure again.
The same goes for United Kingdom based players, Gunther Darkey, the nations number one seed and Samuel Fumi who were scheduled to leave last Sunday.
The Golden Rackets arrived home from Namibia last Monday after placing second in the Euro Africa Zone Three Davis Cup competition where they qualified Ghana to Euro Africa Zone two.
On their route to placing second, they beat three countries namely Togo, Mozambique and Turkey before losing out to the eventual winners, Cote d'Ivoire in the finals.
The players said now that they have sacrificed and brought the nation to Zone Two, nobody seems to care anymore about them and they have been left to their fate.
"It looks like we are learning bitter lessons the wrong way and it is important that we all do things the right way if the country is to make headway in sports."
Investigations conducted by the GNA Sports has revealed that the frustration of the players stem from the discriminatory approach by the tennis officials.
The investigations revealed that Henry Adjei Darko, number two seed and a member of the team was given his return ticket on his arrival from Namibia and has since left to his US base. 25 may 04