17,000 Seek Asylum In Togo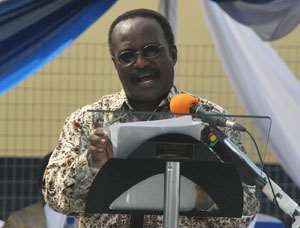 Kwesi Ahwoi
The Togolese government has reported that over 17,000 Ghanaians have sought asylum in Togo as a result of intermittent communal conflicts in the Northern Region since 1993.
Kwesi Ahwoi, the Interior Minister who made this known at the meet-the press encounter in Accra expressed shock about the report, stating that the matter would be investigated to ascertain the truth.
'It is quite shocking to hear that some Ghanaians are seeking asylum in Togo. However, we will go there and find out the actual truth and know what to do afterwards,' Mr. Ahwoi said.
It was recently reported that some Ghanaians who were in Brazil to support the Black Stars in the 2014 edition of the World Cup were seeking asylum in that country.
The Ghanaian supporters claimed to be Muslims who were fleeing violent conflicts between different Muslim groups in Ghana; an assertion the government of Ghana has denied.
Even though the Ghanaians seeking asylum claimed to be fleeing conflict, information available to DAILY GUIDE indicated that they were fleeing the current economic hardship in Ghana.
817 Ghanaians Renounce Citizenship
Mr. Ahwoi disclosed that 817 Ghanaians have renounced their citizenship due to the economic situation in the country.
He said out of the number, 367 were males and 450 females.
Mr. Ahwoi said 538 have sought citizenship in Germany, 233 in Netherlands, 32 in Norway, seven in Denmark, five in Austria, one in Hong Kong and one in China.
Explaining the issue to journalists, David Agorsor, Director of Migration, Ministry of Interior, said the economic situation in the country had resulted in many Ghanaians renouncing their citizenships.
He said the situation was on the increase, stating that 'most of the people renouncing their citizenship were doctors and nurses. This is due to the fact that they are paid well in the developed countries.'
Many have blamed the situation on what Brigadier Joseph Nunoo - Mensah (Rtd), former National Security Advisor said when Ghanaians complained about the hardship they were going through due to bad governance.
Nunoo - Mensah said, 'Every Tom, Dick and Harry gets up and is calling for a strike. If you don't want the job Ghana is not a police state, take your passport and get out of this country. If you can't sacrifice like what some of us have done then get out. If the kitchen is too hot for you, get out.'
[email protected]
By Cephas Larbi