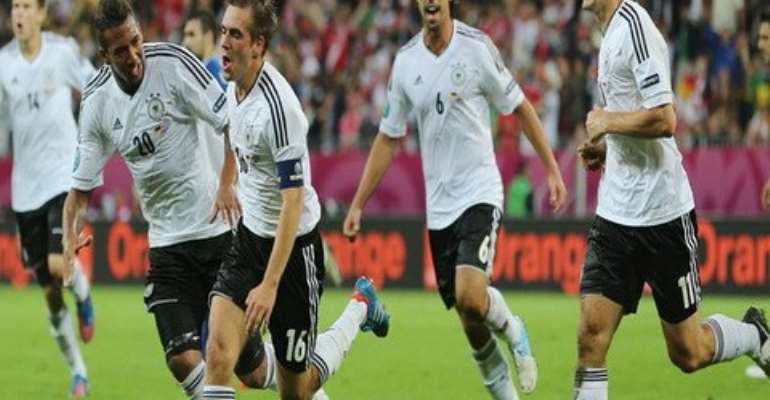 It was one month of exhilarating football extravaganza at Brazil 2014 World Cup. The world's most prestigious stage for football featured spectacular plays and performances from juggernauts to underdogs. Tears of joy and distraught were ultimately shed from all of the participating nations over the course of the tournament. Germany secured their fourth title ever with a thrilling 1-0 win over Argentina in extra time, capping a month of exhilarating football. In a World Cup featuring crucial plays being made by substitutes, it was only appropriate for German sub Mario Gotze to secure the cup with his goal in the final.
Here are some thoughts on the triumphs and failures as well as what the future holds for the World Cup participants.
Europe Reigns Supreme
The last team standing, Germany, was unquestionably one of the most consistent teams all tournament long, never wavering despite being challenged by African nations Ghana and Algeria and Argentina. Head coach Joachim Low channeled a respectable calmness through the team all month long. As the best passing team in the tournament (4,157 passes completed), the Germans kept a streak alive for Europe with the continent's third straight World Cup title. Out of the six participants in the last three World Cup finals, five of them have hailed from Europe.
A Continent at Loss
The South American brigade at last fell with Germany's victory, making the 2014 World Cup the first of its kind in which a South American team hosting didn't win the title in their home continent. Argentina valiantly attempted resurrecting memories of 1986 with a sprint towards the final, but Lionel Messi couldn't be Diego Maradona and save the team from falling apart at the end. Meanwhile Brazil was tossed to the curb unceremoniously with their last two losses coming at a combined 1-10 deficit. The host nation was not only embarrassed on the pitch, but off it as well with questions of financial legislation and social relations between the government and the country's inhabitants remaining at large. Somehow Brazil will have to recover quickly enough to host the Summer Olympics in 2016.
Most Impressive Team Performances
Costa Rica took the world by storm with a shocking 3-1 upset of Uruguay in their opening match and making it all the way to the quarterfinals. If not for the heroics of Netherland's Tim Krul in the penalty shootout, Costa Rica may very well of squeezed their way into the semifinal. It should also go without saying that Germany belongs on this list, but it's worth repeating. The Germans were one of the most fundamentally sound teams in the World Cup and the unit's work paid off with a championship.
Most Impressive Individual Performances
            The World Cup is inevitably host to players looking to increase their international prestige. Colombia's James Rodriquez was arguably the best offensive player with six goals to lead all players in that category. Out of the talented cast of German midfielders, Toni Kroos consistently made the biggest impact with pinpoint passes and even a few goals. Defensively, it's hard not to tip your cap to United States goalkeeper Tim Howard who set a new single World Cup game record with 16 saves against Belgium.
Favorite Play
Out of the 171 goals scored, none were more captivating than Netherland's Robin Van Persie's vs. Spain. Down 0-1 just before halftime, Van Persie launched a magnificent header to equalize against the Spanish. It was perfectly placed by teammate Daley Blind and Van Persie's efforts made for beautiful execution. It was delightful to see Van Persie sprawl out like a dolphin in creating the first of many goals for the Dutch in that game.
Most Disappointing Team Performances
            Brazil's thunderous exit from the World Cup garnered plenty of criticism globally. Head coach Luis Felipe Scolari is now out after the two clunkers the team finished the tournament with. However the most disappointing performances overall come from former world champions and currently number one overall ranked Spain who were dismantled by Netherlands 1-5 and Chile 0-2. After establishing a powerful brand of defensive football that won them two Euro Cups in 2008 and 2012 and a World Cup in 2010, Spain failed to escape the group stage and was eliminated after just two games.
Most Disappointing Individual Performances
            Brazil's David Luiz had been having a spectacular tournament up until he faced off against Germany. Without Thiago Silva and with the status of team captain awarded to Luiz for the game, he crumbled under the German assault and looked completely helpless in the semifinal. Despite Messi snagging the golden ball award for best player in the World Cup, it's debatable if Argentina's superstar deserved the consolation prize for disappearing in the knockout rounds. After scoring four goals in group play, Messi managed only an assist to Angel Di Maria against Switzerland and failed to score in any of the sudden death matches. He was relatively quiet in the final as Germany blanketed him effectively. Messi may soon be leaving his prime and with it collecting more doubts if he'll ever match Maradona.
Looking Forward
Europe once again looks to be strong heading out of the World Cup. France and Germany have a chance to rekindle their intense rivalry after squaring off in a gridlock match in the quarterfinals. Both teams host a slew of talent in their early to mid-twenties. France will host the Euro Cup in 2016 where Germany looks to pull off a similar feat to what Spain did from 2008-2012 in dominating the football universe. The Africa Cup of Nations will be played next January in Morocco. With Ghana, Nigeria, Algeria, Cameroon and Ivory Coast participating in the World Cup, it will be interesting to see where the football power lies in Africa. Most intriguing of all is where Russia will be four ye ars down the road as it will be their turn to host the World Cup in 2018. The Winter Olympics in Sochi debacle was a detriment to Russia's public relations while plenty of political controversy is plaguing the country.