Crocked Jerry Akaminko excited with rehabilitation; yearns to join Eskisehirspor's pre-season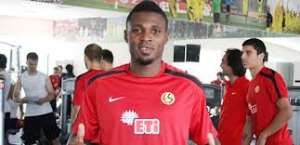 Ghana defender Jerry Akaminko is continuing his rehabilitation at his Turkish side Eskisehirspor who have begun pre-season training.
He underwent a successful ankle surgery in Miami last month after twisting his fibula in Ghana's pre-World Cup warm-up against the Netherlands.
The centre-back landed awkwardly on his left ankle rupturing his fibula and was ruled out of the World Cup.
Akaminko posted on his Twitter page: "Back in Turkey. A bit of work in the pool. Rehabilitation going well. Can't wait to start running again."
The 26-year-old made 28 appearances for Eskisehirspor last season in the Super Lig.