Sports ministry's seminar calls for term limits for Ghana FA President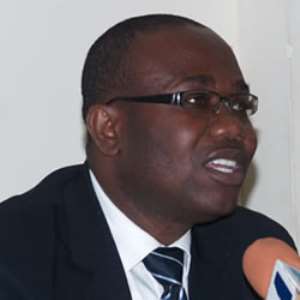 A two-seminar by the Ministry of Youth and Sports has recommended a modification of the football constitution to limit the terms of the president of Ghana Football Association (GFA).
The proposition was announced at the end of a two-day retreat of the seasoned administrators in Accra, Saturday.
The constitution currently allows the sitting president to contest for re-election once the four-year-term expires.
But the eminent managers say the term of the president should be limited to two-terms.
Ghana's shambolic outing at the 2014 FIFA World Cup tournament prompted calls for shake up in the football administration.
Issues of player indiscipline coupled with alleged poor management decisions dominated the headlines which culminated in the Black Stars' early exit from the tournament after amassing just one out of a possible nine points required to advance to the next stage.
It is the team's poorest outing at the tournament after exhibiting remarkable performances in their previous appearances in Germany 2006 and South Africa 2010.
President John Mahama has since constituted a three-member committee to investigate the issues arising out of Ghana's partaking in the quadrennial global showpiece.
The Sports Ministry in collaboration with the GFA also invited 60 knowledgeable persons including, administrators, referees, ex-national team players, coaches and journalists to the two-day retreat to advise on how to properly manage the game in the country.
Joy Sports' Benedict Danquah reports from the Best Western Hotel at Airport Residential Area, Accra where the event took place, that the Eminent football administrators also proposed a number of changes to the country's football management, especially at the national level.
If the proposal is accepted and formalised, then the current FA president, Kwesi Nyantkayi would have to shelve any conceived plans to contest at the next congress.
The FA is preparing to go for congress next year to elect new executive officers and it is believed, Mr. Kwesi Nyantakyi may be gearing up for a third successive term.