Audio: Ghanaians divided over committee set up to investigate Black Stars 2014 World Cup debacle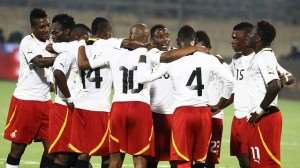 After the Black Stars debacle at the FIFA World Cup in Brazil, government has set up a three member Committee to probe all the issues that came up in Brazil.
People have expressed diverse views about the introduction of this committee.
Speaking on our Current Affairs Programme, "FOCUS," the Chairman of the Committee on Sports, Youth and Culture in Parliament, Komla Mensah Woyome asked the minority caucus and the people of Ghana to exercise patience and wait for the Committee to finish its report so that parliament can investigate the issues that come up.
The MP for Kpandai and a member of the Parliamentary Committee on Sports, Youth and Culture, Mathew Nyindam believes the three member Committee lacks the necessary neutrality to deal with the issues and insists that the Committee should be nonpartisan.
A Sports Analyst, Ebo Appiah disagreed with the idea of setting up the committee and alluded to previous committees that had not exercised their duties properly.
He again expressed disappointment at the re-engagement of the former Sports Minister.