Ghana football strategy forum turns into a farce, Zakkour clashes with Nyantakyi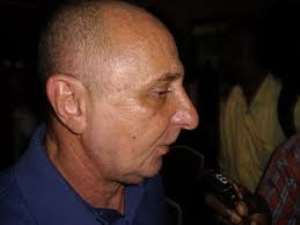 The forum to review Ghana's football strategy nearly descended into a farce on Friday when a physical altercation between Ghana FA boss Kwesi Nyantakyi and ex-Hearts of chief Harry Zakkour was averted at the venue of the meeting in Accra.
But for the intervention of some eminent sports administrators, there would have been fisticuffs between former Zakkour and Nyantakyi as t he two are part of the team assembled by government to review Ghana's football strategy.
Suspecting that the two-day meeting was a set-up against the current Ghana FA administration, Nyantakyi subsequently pulled out of the meeting before new sports minister Mahama Ayariga convinced him to return.
This comes after Zakkour screamed 'we will remove from the GFA' and the comments did not go down well with Nyantakyi who decided to address the ex-Hearts boss about it.
A video footage taken by MultiTV captured the two men in a serious verbal altercation with Zakour charging at Nyantakyi.
The Hearts former Chairman was also unhappy with the manner in which Nyantakyi approached him fuming, gesturing and had to be held back.
It took the quick intervention of Alhaji MND Jawula, FA spokesperson, Ibrahim Sannie Daara and few other administrators to separate the two men.
When Nyantakyi was convinced to return to the discussions, the deputy sports minister took the two men into a meeting to settle their differences and they emerged smiling which is an indication that the issues have been resolved.
The incident comes in the wake of an embarrassing first round exit by the Black Stars rocked by acts of player indiscipline which resulted in two players- Sulley Muntari and Kevin Prince Boateng being suspended indefinitely.
The forum of eminent football administrators was organised to, among other things, resolve player indiscipline and other issues relating to football administration in the country.
The administrators are expected to make recommendations on Saturday.