Fatau Unhappy With Kwarasey's Claims Over Goal Keeper's Trainer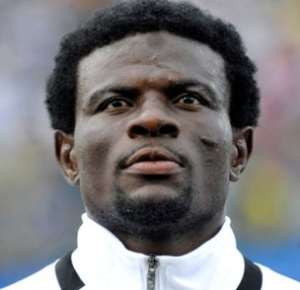 Black Stars goalkeeper Fatau Dauda is disappointed at fellow goalie Kwarasey following his verbal attack on the goalkeepers' trainer Nassam Yakubu. Kwarasey described the trainer as a man lacking the requisite quality to propel the national team but Fatau believe if indeed his colleague said that then he is disappointed and surprise at him." If it is true that Kwarasey said that Nassam is not good goalkeepers' trainer i will be very disappointed in him," he told a local radio station in Accra.

Fatau believes if truely that is the case, this comment should have been made not long ago because Nassam has beem training with them for the past two year. " We have been training with Nassam for about two years now so i am surprise to have heard that Adams said this. If indeed he siad this why is he making this public now and not previously? he asked.
However, while Kwarasey thinks Nassams' style of training is outmoded, Fatau thinks the
contrary.
"I have known Nassam for a long time and i don't have a problem with his style of training. His style is normally what we expect in matched and this works for us." Furthermore, many in the football circles believes Dauda is unhappy with Kwaraseys' comment because he happens to be the direct beneficiary of Nassam.