It's not him: Jose Mourinho defends David Luiz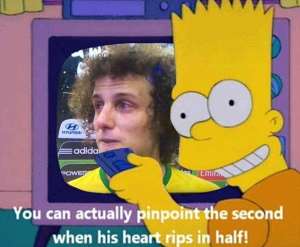 Jose Mourinho has come to the defence of former Chelsea player David Luiz after Brazil were annihilated by their 2014 FIFA World Cup semi-final adversaries Germany.
David Luiz, a player who has been tagged as error-prone due to his rush decisions made a host of mistakes at the Brazil backline as he led his side in the absence of team captain Thiago Silva.
The player has been criticized since the end of the game but Jose Mourinho has come to the aid of the player he sold for £50 million to Paris Saint Germain.
The Portuguese said of Luiz:
'I don't think it's fair to separate a player from the team, because the team was really bad.
'David made mistakes? Yes he did. But, Dante made mistake, Marcelo made mistakes, Fernandinho made mistakes. The team as a team made mistakes. So I don't think it's fair.
'I think everyone in my situation, everyone that is a player, everyone that is a coach, everyone that is not involved in the World Cup, but could be in that position.'