Commey, Buckland Set To Rumble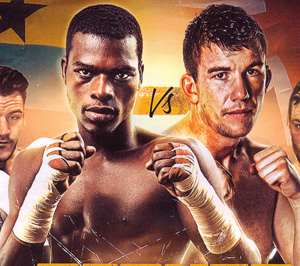 Commey (L) and opponent Buckland
On Saturday July 12 at the York Hall, Bethnal Green in London the best non-televised fight in years will see Richard Commey (17-0,17 KOs) and Gary Buckland (28-4, 9KOs) battle for the vacant Commonwealth lightweight title.
Put together by Goodwin Promotions, the fight is a sellout and has come under the radar in terms of what both fighters bring to the table – action and excitement.
Commey, dynamite in both hands from Accra, Ghana, has certainly been avoided, as many ranked lightweights have looked to take other routes than face him for the vacant belt.
The African fighter, following a long line of famous fighters from that region, always looks to win inside the distance as his record shows.
He is well-rated within boxing circles, and Saturday will provide a stern test of how far he can possibly go. He is certainly stepping up a level against Gary Buckland, coming off the back of two fantastic fights against Gavin Rees, winning and then losing by split-decision.
Buckland fights at high intensity with regards to punching output. He will no doubt try to set a pace for the hard hitting Ghanaian to stay with.
Buckland against Rees showed what he has always brought to the table, which is intensity.
From The Sports Desk