2014 FIFA World Cup: Vital statistics after match day 22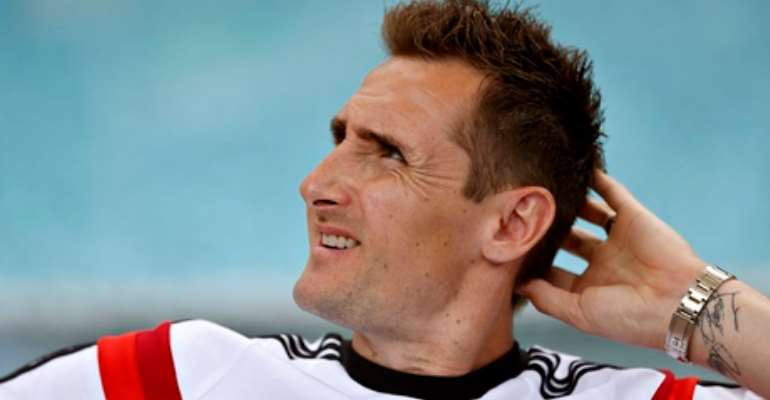 -A total of 61 matches have been played, so far
General statistics
-A total of 167 goals have been scored so far in the on-going World Cup in Brazil: The current goalscoring record at a finals with 32 participating teams stands at 171 and was set at France 1998, which was the first tournament to host that many countries.
-The 167 goals represent an average of 2.7 goals per game
-There has now been a record of 31 goals scored by substitutes at this World Cup.
-The leading top scorer is James Rodriguez of Colombia with 6 goals: the number of goals that James has now scored at Brazil 2014 so far. He scored in every single game he played, before the Colombia were knocked out of the tournament by Brazil and his 6 goals have already surpasses Thomas Muller's adidas Golden Boot-winning haul of 5 goals at South Africa 2010.
-A total of 173 yellow cards have been flashed
-10 red cards have been shown in the tournament at the moment, with the latest casualty Oscar of Costa Rica
The following records were set after Germany's 7-1  mauling of Brazil on Tuesday
-This is Brazil's biggest defeat in World Cup finals history, surpassing their 3-0 loss to France in the final in 1998.
-This is the first World Cup game with eight or more goals since Saudi Arabia v Germany in 2002 (0-8).
-This is the first time a team have scored seven goals in a World Cup semi-final.
-This is the heaviest defeat ever by a host nation in the World Cup
-No team had previously conceded five or more goals by half-time in a World Cup semi-final.
-76 years separated Brazil's first and previously only World Cup semi-final defeat - a 2-1 loss to Italy in 1938 - from this one.
-Germany are now the highest scorers in World Cup history with 223 goals, overtaking Brazil.223 World Cup goals was the record tally on which the Germans ended the match. Brazil had been top of that particular chart before the match with 220, a haul that was eclipsed when Sami Khedira made it 5-0.
-39 years had passed since A Seleção's last competitive home defeat, and that too came in Belo Horizonte. Peru were the victors on that occasion, beating the Brazilans 3-1 in the Copa America semi-finals in 1975.
-17 goals have been scored by the Germans so far at Brazil 2014. This already ranks as their second most prolific campaign, second only to 1954, when they scored 25 times en route to lifting the trophy. Brazil, meanwhile, have conceded 11 - equalling their worst return from the 1938 edition.
-8 World Cup Finals have now been reached by Germany, an all-time record. The Europeans are returning to the game's showpiece fixture for the first time since 2002 and will be aiming to win a Trophy they last lifted back in 1990.
-7 goals had only been put past Brazil in a single match once before, when Yugoslavia beat them 8-4 in a friendly on 3 June 1934. No-one had ever scored seven in a FIFA World Cup semi-final though; the previous record was six, with three teams - West Germany being the most recent in 1954 - having managed that. Low's side also registered the highest-ever margin of victory in the last four, with five goals having held the record prior to today. Only once before had seven goals been scored in a knockout match, when Austria beat hosts Switzerland 7-5 in the highest-scoring World Cup match of all time back in 1954. That was also the only previous occasion, prior to tonight, that a World Cup host team had conceded seven goals in a single match.
-6 goals was the margin by which Germany won and, in doing so, they inflicted a record-equalling defeat on Brazil. The last time A Seleção lost so heavily was in 1920, when they went down 6-0 to Uruguay. The result also equals Germany's second-biggest World Cup win - a 6-0 win over Mexico in 1978 - but fell short of the record 8-0 scoreline they racked up against Saudi Arabia in 2002.
-Germany were 5-0 up after 29 minutes - faster than any team in World Cup history.
-5 goals were scored by the Germans in the first-half. Low's side are one of only three teams in the history of the World Cup to have achieved this, Yugoslavia (6-0 up at half-time before beating Zaire 9-0 in 1974) and Poland (5-0 ahead en route to a 7-0 win over Haiti, also in '74) the other two.
-Brazil's first shot on target was in the 51st minute.
-There were 179 seconds between Germany's second and fourth goals.
-Germany netted as many goals in this semi-final as they had in their previous six (1982-2010).
Germany are the first team to score seven times in a World Cup semi-final.
Thomas Muller has scored 10 goals and provided six assists in 12 World Cup matches.
Germany have scored more goals in this tournament than they did in 1990 and 1966 - a total of 16.
-16 World Cup goals is the new all-time record that belongs to Miroslav Klose. The Lazio striker set this benchmark eight years after Ronaldo, with his 15th, took the record from Gerd Muller on German soil. Now Klose has reclaimed the record for Germany in Brazil. The 36-year-old's goal was his 19th at a major championship and this, too, has set a new record for a European player, with Gerd Muller's tally of 18 having been surpassed. Klose achieved these milestones in his 23rd World Cup appearance, a haul that takes him level with Paolo Maldini on the all-time list and leaves him second only to compatriot Lothar Matthaus. He has, though, edged ahead of both Matthaus and Cafu in World Cup knockout appearances, having now racked up 13.
-10 World Cup matches have now been won by Joachim Low. In the -10 World Cup matches have now been won by Joachim Low. In the history of the Germany national team, only the legendary Helmut Schon has won more.
-10 World Cup goals was the landmark reached by Thomas Muller. The Bayern Munich forward is the 13th player to reach double figures and, at 24 years and 298 days old, he is the third-youngest - behind Gerd Muller (24, 226) and Sandor Kocsis (24, 282) - to do so. With five goals and four assists thus far, Muller has also become the first player to score and/or create nine or more at World Cup since Diego Maradona (five goals, five assists) in 1986. Furthermore, he is just the third player to score five or more at two separate World Cup editions, following Teofilo Cubillas (1970 and 1978) and Klose (2002 and 2006).