Shakib Al Hasan denies threatening to quit Bangladesh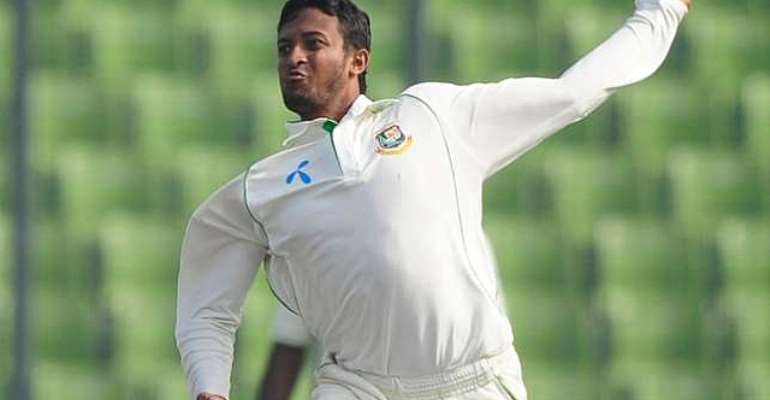 It had been claimed in the Bangladeshi media that the 27-year-old contacted coach Chandika Hathurusingha to tell him he was considering his future after the Bangladesh Cricket Board (BCB) asked him to return early from his participation in this year's Caribbean Premier League.
Shakib - who has appeared in 34 Tests and 136 one-day internationals - reportedly spoke to Hathurusingha, who notified BCB president Nazmul Hasan via email.
Nazmul promised to speak to the player about the situation, but Shakib has now responded publicly to the reports, insisting on Sunday that he never threatened to quit.
"I did not make this comment, it was the coach's comment," he said.
"Why should I say something like this? If I get angry and tell my father that I don't want to eat, will it come out in the news?
"It is a simple issue. If I didn't wish to play for Bangladesh, would I have returned today? I would have left without telling anyone.
"I want to play for Bangladesh at least until the 2023 World Cup."
Shakib outlined the details of his spat with Hathurusingha, with the pair arguing over when the all-rounder was to return to join up with the squad.
"I was angry and I said a few things that I shouldn't have, but I said sorry and he accepted that as well," he said.
"Because I was on a flight for 10 hours I couldn't talk to him and that's why he probably complained in a letter. I didn't have time to talk to him.
"I tried to reason with him and explain that should I come back for just 10 days? He told me that 'look, this is a team game' and asked me to stay in the camp. He showed his logic and I showed mine. At the end of the day it went his way."
Nazmul had earlier criticised the actions of Shakib, claiming the player was conducting himself below the standards expected of a leading figure within the side.
"Shakib is very popular, he is our best player," he said. "We all love him but if such a big star keeps breaking the rules, the team loses coordination and control. It creates a bad example for our future generation."