Fight outside the ring: Amir Khan arrested after alleged assault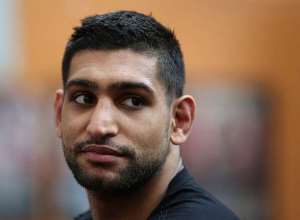 The Bolton man was alleged to have assaulted two 19-year-old men, and after being taken in for questioning, Khan was bailed until mid-July as investigations continue.
"Just before 1.30am on Friday, police were called following reports of an assault in Bolton," a police spokesman said.
"Officers attended Russell Street and discovered two 19-year-old men had been assaulted. Their injuries are not serious.
"A 27-year-old man was arrested on suspicion of two section 47 assaults."
A representative from Tangerine PR, who have Khan as a client, confirmed the Olympic silver medallist had been arrested.
"Amir Khan was arrested on suspicion of common assault in the early hours of Friday July 4," the spokesman said.
"Amir has since been released without charge on bail pending further enquiries. At the stage we are unable to comment further on this matter."
Khan refuted the reports, despite his representatives confirming his arrest.
"All nonsense please don't believe what you read. I'm home with my family and nobody got beat up," Khan tweeted.
Khan, 27, most recently claimed a unanimous decision against Luis Collazo at Las Vegas in May to improve to a 29-3 professional record, and is pursuing a title fight with Floyd Mayweather.