Mary, Ligbidi Grab MTN CEO Golf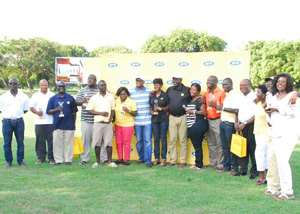 A group picture of  the winners and staff of MTN
A group picture of  the winners and staff of MTN
The 6th edition of the MTN CEO Invitational Golf produced champions in Mary Krouborg and K. Ligbidi at the Celebrity Golf Club over the weekend.
Krouborg, playing on handicap 13, grossed 90. Following her closely was Pamela Yeboah.
The men's Group A winner, Ligbidi, was followed by Ernest Kumi and Kusi Boateng in that order.
In the ladies Group B, Maureen Akuaku finished first after recording a 102 score with Esther Antwi finishing second with a gross score of 97.
It was Ann-Beverly Brown who picked the booby prize.
Gorkeh Sekyim picked the men's Group B with 89 score while K. Matlatesa came second with a gross score of 100. Jonathan Adjetey won the booby Prize.
Chief Executive Officer of MTN Ghana, Serame Taukobong, in whose honour the event was held, congratulated the winners and thanked the organisers and executives of the Celebrity Golf Club.
'It is always important to take time off your busy schedules, change environment and engage in an activity that will keep us relaxed after a stressful week,' said Taukobong.
The CEO described the invitational tournament as very important to MTN taking into account the platform it offers its clients and staff.
He added that the tournament will be replicated in all golf courses across the country to give the game the needed boost and attention.
Takwah hosts the next edition.
From Kofi Owusu Aduonum, Sakumono