Brazil Police Break up World Cup-Related Protest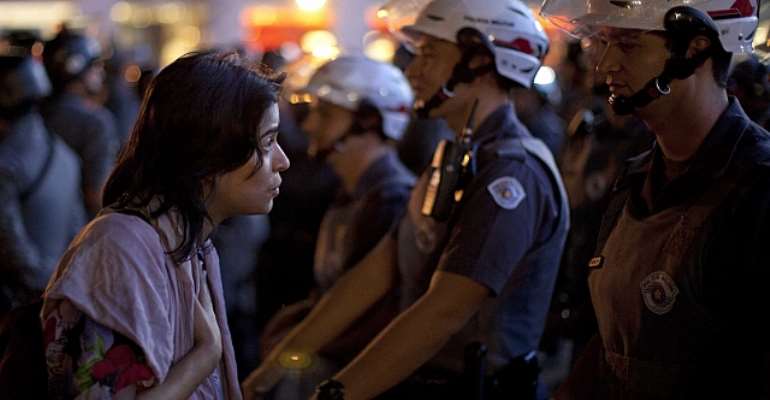 Protesters in Brazil
Brazilian police fired tear gas and rubber bullets to break up a protest Tuesday by some 300 people demanding the release of demonstrators arrested in early protests against the World Cup, news reports said.
Police confirmed some 300 people took part in the protest in downtown Sao Paulo but gave no further details. Brazilian media said six people were arrested and at least two of them were released after being questioned by police.
The rally was called to demand the release of a student and a professor who were detained June 23 in a demonstration against the billions spent to stage the World Cup in Brazil.
Such rallies by people complaining the money would be better spent to improve schools and health care and other public services have been a staple over the past year in the run-up to the tournament.
The web page of the newspaper O Estado de Sao Paulo said both of the detainees were members of Black Bloc, a hardline protest group that authorities blame for violence and vandalism during anti-World Cup rallies.
Both were charged with criminal association, illegal weapons possession, inciting violence and other offenses.
Brazil's branch of Black Bloc takes its inspiration from the anti-establishment movement that arose in Germany in the 1980s. Members dress all in black.
A year ago Brazil's streets filled with demonstrators during the Confederations Cup here, a football tournament seen as a trial run for staging the World Cup.
More than a million people took to the streets to protest the 11 billion dollars spent to stage the world's premiere sporting while Brazilians grapple with what they see as substandard schools, hospitals and public transport.
The latest rallies have been much smaller, however, as football fever took hold and people became wary of the violence that marked the initial rallies.