Suarez is sorry: Liverpool player delivers apology for Chiellini bite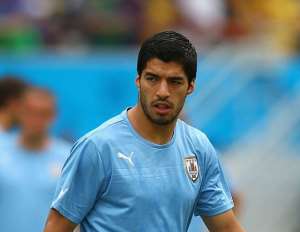 Uruguay and Liverpool forward Luis Suarez has apologized to Italy's Giorgio Chiellini after biting the player in the 2014 FIFA World Cup Group D game between Italy and Uruguay.
Suarez has been banned from all football-related activities for four months and has also been slapped with nine international games ban.
The Liverpool player released a statement on his personal website in his apology writing:
'After several days of being home with my family, I have had the opportunity to regain my calm and reflect about the reality of what occurred during the Italy-Uruguay match on June 24, 2014.
Independent from the fallout and the contradicting declarations that have surfaced during these past days, all of which have been without the intention of interfering with the good performance of my national team, the truth is that my colleague Giorgio Chillieni suffered the physical result of a bite in the collision he suffered with me.
For this: - I deeply regret what occurred.
- I apologise to Giorgio Chiellini and the entire football family.
- I vow to the public that there will never be another incident like.'
It is believed Barcelona insisted on an apology from Luis Suarez in a week in which the Catalan Giants are preparing a bid for the Uruguayan forward.
The contract Luis Suarez will sign to move to the Spanish La Liga if Liverpool accepts the bid from Barcelona will include a 'bite clause'.
Chiellini retweeted the tweet version of Suarez's apology and replied with a tweet:
'It's all forgotten. I hope FIFA will reduce your suspension.'