WC Round of 16: Fact file: Germany vs Algeria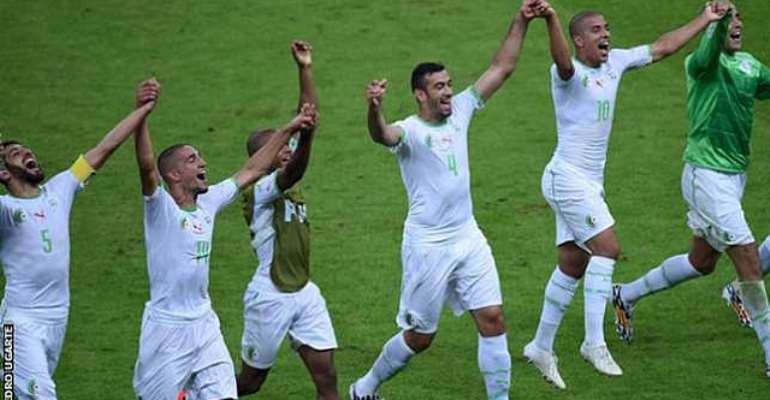 Head-to-head
Algeria have won both previous meetings with Germany: 2-0 in a friendly on New Year's Day in 1964 and 2-1 in the group phase of the 1982 World Cup - which was the first victory by an African team over a European nation at the World Cup.
It remains Algeria's only victory over a European opponent at the World Cup in eight attempts (W1, D3, L4).
Germany
Germany have only once failed to reach the last eight in their 17 previous World Cup appearances. That came in 1938, when they were knocked out in the first round by Switzerland after a replay.
Thomas Muller has scored nine goals in as many World Cup appearances - the same record as Pele after his first nine games in the tournament. Muller has been involved in 13 of Germany's last 23 World Cup goals.
If Miroslav Klose scores he will surpass Brazil's Ronaldo as the all-time top scorer at the World Cup with 16 goals.
Klose and Muller have scored four World Cup goals in the knockout phase, one shy of the national record held by Helmut Rahn.
Algeria
Algeria have reached the knockout stage for the first time. This is their fourth World Cup.
The only African nations to reach the World Cup quarter-finals are Cameroon in 1990, Senegal in 2002 and Ghana in 2010.
Senegal are the only African side to beat a team from Europe during the knockout stage at a World Cup, doing so against Sweden in 2002.
Vahid Halilhodzic's side have scored six goals so far in the tournament, equalling the total number of goals they had scored in their three previous World Cups combined.
Islam Slimani needs one goal to become Algeria's outright top scorer at the World Cup. He currently shares the record of two with Salah Assad, who scored twice in 1982.
 
Current form
Germany are ranked world number 2, while Algeria are number 22
 
Last 5 matches by Germany
World Cup 2014, Final tournament, Group G
26.06.2014                           USA       -             Germany                             0:1 (0:0)
World Cup 2014, Final tournament, Group G
21.06.2014                           Germany             -             Ghana                   2:2 (0:0)
World Cup 2014, Final tournament, Group G
16.06.2014                           Germany             -             Portugal                               4:0 (3:0)
Friendly internationals 2014
06.06.2014                           Germany             -             Armenia                               6:1 (0:0)
Friendly internationals 2014
01.06.2014                           Germany             -             Cameroon                           2:2 (0:0)
They have won won 3 and drawn 2 of their last games
 
Last 5 matches by Algeria
World Cup 2014, Final tournament, Group H
26.06.2014                           Algeria  -             Russia                   1:1 (0:1)
World Cup 2014, Final tournament, Group H
22.06.2014                           South Korea       -             Algeria                  2:4 (0:3)
World Cup 2014, Final tournament, Group H
17.06.2014                           Belgium                -             Algeria                  2:1 (0:1)
Friendly internationals 2014
04.06.2014                           Algeria  -             Romania                              2:1 (1:1)
Friendly internationals 2014
31.05.2014                           Algeria  -             Armenia                               3:1 (3:0)
They have won 3, lost and drawn 1 of their last 5 games