End of the party in Miami: Dwyane Wade opts out of Miami Heat contract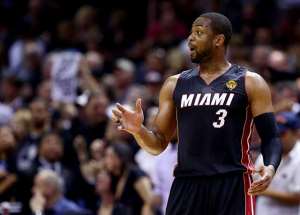 Just four days after James notified the Heat of his intention to explore his options as an unrestricted free agent, Wade followed suit by opting out of the final two years on his contract on Saturday.
Wade - a three-time NBA champion with the Heat - was not the only Miami player to become a free agent over the weekend.
Teammate Udonis Haslem is also able to test the waters of free agency after opting out of his contract, though it is expected that all three players will sign new contracts with the Heat but on lower salaries.
Contrary to earlier reporters, Chris Bosh remains part of the Heat roster after he was expected to join the trio as a free agent, though he is still considering his options.
"Today we were notified of Dwyane's intention to opt-out of his contract and Udonis' intention to not opt into his contract, making both players free agents," Miami Heat president Pat Riley said via a statement released on the team's official website.
"Dwyane has been the cornerstone of our organization for over a decade, and we hope he remains a part of the Heat family for life.
"Udonis has been the heartbeat of this team for 11 years. He has sacrificed countless times to make this organization successful, and he is the epitome of what this organization stands for.
"We look forward to meeting with Dwyane and Udonis and their agent in the coming days to discuss our future together."