I can't believe I beat Serena Williams - Alize Cornet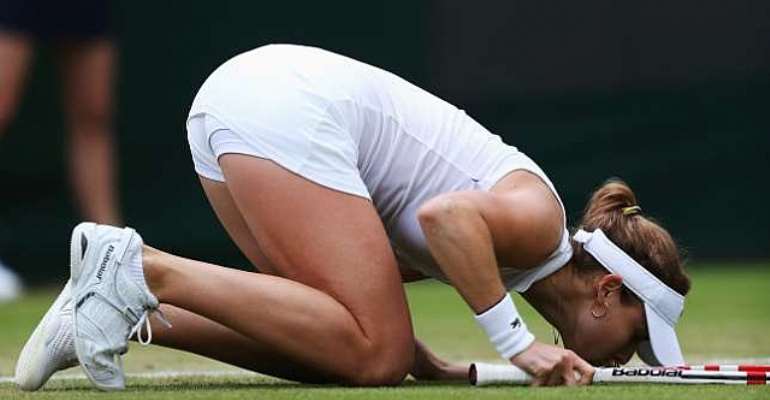 Williams appeared to be cruising towards a routine third-round victory on Saturday after taking the first set 6-1, but 24-year-old Frenchwoman Cornet showed determination to battle back and win.
She came through 1-6 6-3 6-4 on Number One Court to claim arguably the result of her career.
American Williams - who had been the favourite to win the women's title at the All England Club - has not enjoyed 2014 in the grand slams so far, having lost in the fourth round of the Australian Open and then the second round at Roland Garros in the French.
But despite an error-riddled performance to continue that poor return on the grass courts in London, her display took little away from Cornet, who conceded she was still coming to terms with her triumph - and her turnaround on the surface -- afterwards.
"I just cannot believe it. Three years ago I couldn't play on grass, I was so bad but now I have beaten Serena, the world number one on her own court," she said.
"It is the biggest shock of the tournament because she is the world number one and I still can't believe I did it, me! I am loving it here in London.
"I have to get used to it (the win) and focus on the next match because the tournament is not over for me. I am not sure how I did it but just with the heart and the help from the crowd.
"She helped me a bit too because she made two big mistakes because I think she was nervous too."
Williams was left struggling for answers but accepted that she had been second best.
She has, though, vowed to learn the lessons after conceding her early advantage.
"This defeat is important to study: right now I don't really know what I did wrong. Usually I know," she said.
"I thought I was playing pretty well, I worked pretty hard coming in.
"It's okay, sometimes it happens... I think everyone plays the match of their life against me. I just have to always be 100 times better, if not then I'm in trouble."
On where she now goes from here, the American added: "I know I can do better. I know I have potential to continue to be on top so that's what keeps me motivated I guess."