Exclusive: Kwesi Appiah speaks on KP Boateng row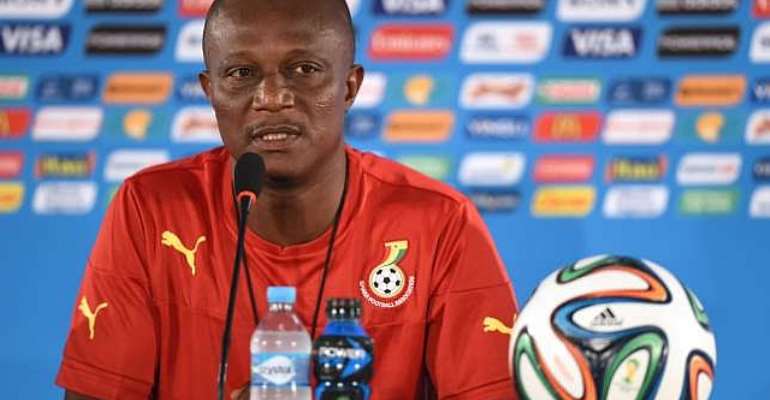 Ghana coach Kwesi Appiah has opened up for the first time about his stormy relationship with Kevin-Prince Boateng at the world cup in Brazil and suggested he had to send the star home after getting fed up with a persistent attitude.
The Schalke 04 star was sent home on the morning of the Black Stars world cup group game against Portugal after what the Ghana Football Association called Boateng's 'vulgar insults' directed at coach Kwesi Appiah.
Boateng has disputed that version and claims Appiah told him to 'f**k off' after a training ground incident. Appiah disputes that version.
'I am surprised that he said that I used those words on him. Thing is as my player how would I just say an F word to him? Whatever he has done throughout our stay in camp all the players are aware,' Appiah said.
'Whatever he did everyone is aware. When you deal with players you ignore them sometimes because you need them to perform but when it gets beyond the line you have to stamp your authority and let him know you are in control and that he cannot do things the way he wants, disrespect you and look down on you as if you are nothing.'
Appiah had said in the immediate aftermath of the Portugal game that both Boateng still has a future with the team but admits working with him in the future will be difficult if the player's countenance does not change.
He said: 'Sometimes it comes to whether the player shows remorse and let you know they are really sorry. In that aspect it's fine. But if the person has been doing it, doesn't care and looks down upon you then it will be really difficult to say I will work with him again because once he comes back he could do something terribly worse. As I keep saying it is about teamwork. One person should not  hold the whole nation to ransom or should not destroy the youngsters because once they also pick that attitude whoever is handling the team will find players who will give him the same problems.'