Worst XI Of The Group Stages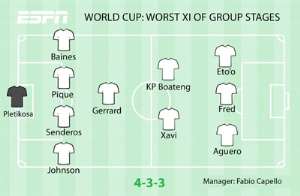 Source: soccernet
We spend so much time praising the greats at World Cups, but it only seems fair to cast our eyes upon those who underwhelmed, disappointed, didn't live up to expectations or just plain stunk. Without further ado, your squad of ne'er-do-wells.
GK: Stipe Pletikosa, Croatia
Many expected "The Fiery Ones" to advance from a tricky but reasonable Group A thanks to the likes of Luka Modric, Mateo Kovacic and Ivan Rakitic in midfield with Mario Mandzukic to serve as the battering ram up front. Yet their campaign was ruined in the World Cup's opening game, as three goals by host Brazil added a layer of doubt that even a 4-0 thrashing of Cameroon in Game 2 couldn't quite erase. It was an unfortunate defeat; Pletikosa guessed correctly on Brazil's generous penalty but lacked the arm strength to keep it out. He then dove inexplicably late on Neymar's second goal, a decent but stoppable long-range effort, before repeating the delayed reactions on Oscar's injury-time finish.
LB: Leighton Baines, England
England can manage without Ashley Cole! It was the en vogue refrain from the minute that manager Roy Hodgson picked his provisional squad. The future of the Three Lions' left side was in safe hands thanks to the moptopped Toffee and young Luke Shaw, Man United's apparent new signing. The refrain appears to have been little more than a diversionary mantra, a chant born of delusion rather than truth. Baines was toasted by the canny movements of Matteo Darmian and Antonio Candreva versus Italy; it didn't help that he was frequently left to defend two-on-one, but the manner in which he bought Candreva's dummy before the cross that Mario Balotelli scored for the game winner suggested that he was a callow teen, not the stalwart who has locked down Everton's flank since 2007. It wasn't much better against Uruguay.
CB: Gerard Pique, Spain
Shakira's lesser half was woeful for an all-around poor Spanish side that capitulated against the Dutch and were unable to recover against an equally motivated Chile. The premature exit of the defending champions will be dissected for the months and years to come. Debate and discussion of replacements, "the next generation" and formation/tactical shifts will be as commonplace and tedious in footballing circles as Arsenal transfer rumours. Yet the one glaring note is the lacklustre efforts of the Barcelona centre-back. As one of many to play below his best, a dismal pairing with Sergio Ramos led to a shaky offside trap, lazy marking and enough room around the penalty area to turn Arjen Robben into a hero.
CB: Philippe Senderos, Switzerland
Substitutions normally change games in a positive sense. Just look at this World Cup so far, in which subs have scored 24 goals — a tournament record. Yet the former Arsenal centre-back is a case study in the contrary: a replacement whose presence ruins his team instead of the opponent's. Senderos was forced into action just nine minutes vs. France because of Steve von Bergen's injury, and it appears more than coincidental that the Swiss slowly capitulated against the irresistible French attack. Olivier Giroud and Blaise Matuidi scored within 66 seconds of each other. Mathieu Valbuena added a third before half-time, and late goals by Karim Benzema and Moussa Sissoko showed that if you have an option who isn't Senderos, you should probably explore it.
RB: Glen Johnson, England
Liverpool fans have been frustrated for ages about their longtime right-back's inability to man-mark or defend properly, but now their pain is shared by the nation after three subpar performances amid England's limp World Cup presence. He did tee up Wayne Rooney for his first goal at FIFA's big event, but it wasn't enough. Johnson looked outmatched no matter which opponent was running at him.
DM: Steven Gerrard, England
Although he was praised for his mature adaptation into a deep-lying, restrained playmaker for Liverpool, Gerrard's attempt to reprise this role for England looked more headless chicken than fearless leader. He spent much of the World Cup chasing shadows or being overrun. His role in Luis Suarez's second goal, an unwittingly perfect flick-on for his club teammate's well-timed run, added further bitterness to a difficult campaign — and surely his last in an England shirt.
DM: Xavi, Spain
Another aging master whose impeccable skills were left behind at customs. It would be cruel to lay his nation's problems on his instep but he looked sadly bereft against both the Dutch and Chile, something he's rarely looked during the course of a regal 16-year senior career. It wasn't supposed to end like this.
AM: Kevin-Prince Boateng, Ghana
Winner of the inaugural Samir Nasri Award For Work In The Field Of Ruining Your National Team, the dynamic midfielder made light work of decimating the Black Stars' World Cup. A "vulgar verbal tirade" (thanks, Daily Mail) aimed at coach Kwesi Appiah — presumably because Appiah had the gall to use him as a substitute vs. the U.S. and remove him after just 52 minutes vs. Germany — caused him to be sent packing along with teammate Sulley Muntari, who allegedly assaulted a member of the Ghana FA's travelling contingent. It would be foolish to speculate too much on the details of what has been a tough time for Ghana, but Boateng stands out given just how he got to Brazil:
FW: Fred, Brazil
The popular joke about Fred is that he must have won the best seats around for the Selecao's campaign, and despite a generous goal against Cameroon — he was clearly offside — in their final group game, he remains the most impressive non-striker at the World Cup. The definition of peripheral.
Sergio Aguero could not repeat his Man City form for his country.
FW: Sergio Aguero, Argentina
His participation in Brazil was full of doubt because of persistent hamstring injuries this season, but despite a sufficient recovery to start every game, the Man City striker offered nothing. Subbed off in all three Group F matches, the latter after just 38 minutes with a suspected thigh muscle tear, it looks unlikely that he'll feature again this summer no matter how far the Albiceleste go.
FW: Samuel Eto'o, Cameroon
Sensing a trend? Here was another icon of the game with one final chance to assert himself on the biggest stage. It didn't happen, and the Indomitable Lions surrendered meekly in what is probably the worst performance by any team.
Manager: Fabio Capello, Russia
Paying him exorbitant sums of money to parachute in and manage your team will get you so far. You'll earn modest results, look vaguely competent and get your fan base mildly excited. Just don't expect him to do well at a World Cup where he uses pallid, rigid-to-the-point-of-parody defensive tactics.  With equally poor taste in clothes , Capello's impressive résumé with Milan looks more and more inconceivable with every passing failure. But if you're lucky — and we were — he'll blame it all on a laser pen .
Source: soccernet