World Cup 2014: Asamoah Gyan does everything his way but Ghana could not do without him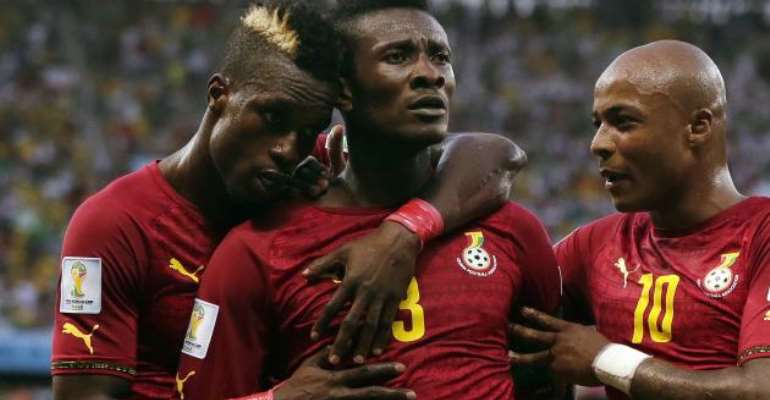 It is a measure of Asamoah Gyan's standing these days that the former Sunderland striker took a personal phone call from the Ghanaian president John Dramani Mahama on Tuesday to resolve a dispute over appearance bonuses.
Within three hours, a plane with $3m in cash was on its way from Accra to Brazil as the Black Stars prepare for their last-chance saloon meeting with Portugal in Brasilia.
From making records with hiplife rapper Castro to hobnobbing with Floyd Mayweather Jr in Miami for his new role as a boxing promoter, life is never dull for Gyan. The 28-year-old matched Roger Milla's African record of five World Cup goals with his strike in the 2-2 draw with Germany, meaning he has now found the net in three successive World Cups and is firmly established as a national icon once again.
But it has not always been so simple. The missed penalty in the infamous quarter-final against Uruguay in South Africa four years ago at one stage threatened to end an international career which has now seen Gyan amass 80 caps and 40 goals.
"He was vilified massively at the time – people were accusing him of not concentrating on taking a penalty because he was thinking about what dance he was going to do to celebrate," remembers journalist Godred Akoto Boafo of allsports.com.gh.
The fallout was so bad that Gyan quit the Black Stars for a year before eventually being persuaded to return, although he will not be taking any more penalties after making a promise to his mother Cecilia Amoako, who tragically died in a car crash last March.
His decision to leave Sunderland just a year after a £13m move from Rennes was also heavily criticised back home, with many supporters dismissing him as a mercenary for joining Al Ain in the United Arab Emirates. A return of 10 Premier League goals – including the second in a famous 3-0 win over Chelsea at Stamford Bridge – had showed great promise for his first season in England, yet the lure of a reported £150,000 a week contract in an initial loan switch was too much to resist.
Since then, Gyan has not stopped scoring and his 82 goals in three seasons have been rewarded with several new deals that have made him one of the best-paid African players in the world – earning almost £11m a season. It is little wonder that he has no plans to return to Europe then despite such striking luminaries as Ruud van Nistelrooy urging him not to waste his talent.
"People were disappointed that he went there because they have so much belief in his talent and they were worried it was going to affect his international form," says Boafo. "But it's been quite the contrary because his form has actually got better and no one is complaining now. He also has 11million reasons to stay there so he has no intention to move back."
When Gyan does finally decide to hang up his boots, though, a musical career could beckon for 'Baby Jet'. The success of his debut single 'African Girls' won him an award in 2010 and a belated follow-up last year called Odo Pa went straight in at No1 in the Ghanaian charts.
But far from being a distraction, Boafo believes the growing Gyan empire has enabled the striker to find his best form on the pitch. "Everything is handled for him by other people so he rarely gets involved," he says. "He only makes music in his spare time – if there had been no World Cup this year, he would probably have spent the summer in the studio."
Boafo adds: "At the start of the year, there were a few concerns that he wasn't in the best shape but at the pre-World Cup camp, he showed up looking fit and ready so obviously he had paid some attention to that. Now he looks like the Gyan we saw in 2010."
Having missed two good chances to score against USA in Ghana's opening defeat, Gyan was finally able to unveil his new Ewole Monko dance against Germany. James Appiah's side now need to beat Portugal and hope that Germany show no mercy to their former manager Jürgen Klinsmann – now in charge of USA.
Whatever happens, Gyan will once again be fundamental to their hopes. Deployed as a solo striker, it is his ability to bring wide players such as André Ayew and Christian Atsu into play that has underpinned Ghana's success on the international stage over the past eight years.
"Gyan is as important as Ronaldo is for Portugal, Neymar is for Brazil or even Messi for Argentina," said Appiah this week.
Given his knack of hogging the limelight, don't bet against seeing the man with the trademark Aas shaved into his head finally laying the ghosts of 2010 to rest.