FIFA Is Watching Germany, USA …Nyantakyi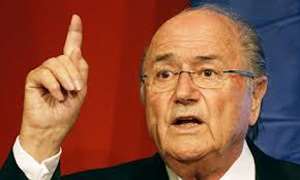 Sepp Blatter
Sepp Blatter
Ghana's qualification to the last 16 stage of the World Cup is heavily dependent on the results of the Germany-USA game in Racife tomorrow.
A USA defeat by Germany and a comprehensive Ghana win over Portugal would see Ghana progress alongside Germany to the next stage of the completion with four points.
As the Group G table stands now; Germany and US are tied with four points, and Ghana and Portugal with a point apiece makes the Group open.
However, a draw in the Germany-USA game would see the two book their last 16 tickets at the expense of the Portuguese and the Ghanaians.
Speculations about the two playing it soft for a stalemate results due to the German factor (Jurgen Klinsmann, US coach) has reached pole position.
The Ghana Football Association's (GFA) President, Kwesi Nyantakyi, in an interview has allayed fears of possible match of convenience expressing gross confidence in world's football governing body, Federation of International Football Federation (FIFA) to detect any fishy deal.
'We can only concentrate on ourselves and not be bothered by the game between Germany and the USA,'   Nyantakyi said.
The GFA boss added, 'We believe FIFA is competent enough to detect anything untoward. I don't think USA will want to play a fixed match neither do I think Germany will want to play a fixed match.
'I believe FIFA is watching and all of us will be watching.'
Ghana would take on Portugal at Brasilia, while Germany face USA concurrently in Recife at 4:00pm tomorrow.
Meanwhile, the two German coaches Joachim Löw (Germany) and Klinsmann have rubbished the match fixing speculations on different platforms.
To Klinsmann, he would put his nationality aside and do real business when they cross swords with the Germans.
By Kofi Owusu Aduonum