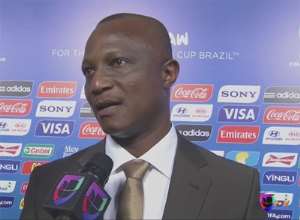 Kwasi Appiah
Ghana coach Kwasi Appiah has revealed ahead of Thursday decider that the only way to clamp down on Portugal talisman Cristiano Ronaldo is to play as a team.
He admitted the qualities of the reigning world best player but has expressed great hope in his charges to rise to the challenge.
Last Sunday night's 2-2 stalemate game against USA places all  Group G opponents-Ghana, Germany, USA and Portugal on the verge of making it to the last 16 stage.
Ghana must defeat Portugal to advance depending on the outcome of the other games and coach Appiah has indicated that he would employ tactics that would not allow the Real Madrid star to have a field's day.
'He's the best player in the whole world - everyone recognises that. You can only stop Cristiano Ronaldo, the best player in the world, by working as a team. We can't let him show what he can do.
'But it's about teamwork, I don't believe in the individual.'
'It's important that we don't allow Ronaldo to play his game.
'It won't be easy to reach the round of 16 because we've only got one point. It'll be tough but it is possible,' he added.
 By Kofi Owusu Aduonum