We Were Tired German Coach Confesses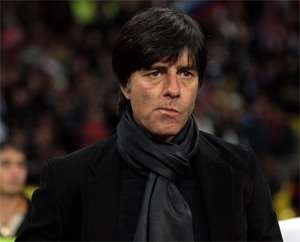 Joachim Low
Joachim Low has praised his Germany players for giving 'everything they had' in their 2-2 draw with Ghana on Saturday.
Die Mannschaft (National Team) went 1-0 up against the Black Stars through Mario Goetze, but had to scramble for a draw as Andre Ayew and Asamoah Gyan turned the scoreline on its head before Miroslav Klose equalised late on.
Low said his players were forced to run more often than they wanted to in the intense heat but praised them for the effort they put in.
'The players were incredibly exhausted,' he told ARD.
'The second half was totally open play, the speed was mad. The players gave everything they had.
'We didn't want to play for safety; we just wanted to avoid running back and forth all the time in these temperatures. We managed to get in front but out of nothing we conceded two goals.
'At this tournament you can't expect to play attacking football all the time. It is not good, to be too open and be punished for it. Attacking and defending are equally important.'
The coach added that he is aiming for all three points against the USA in the final group game before praising Bastian Schweinsteiger and Klose for their contributions.
'Our situation has not significantly changed. The situation is we want to win the next game and we want to win our group.'
'Schweinsteiger and Klose revived the game. Sami Khedira and Mario Gotze were exhausted and had no strength anymore.
'Miro was brilliant at the goal and he was superb in training during the last days. Schweini had a couple of good moves going forward.'