Black Stars focused on Portugal World Cup clash, amid off-field distractions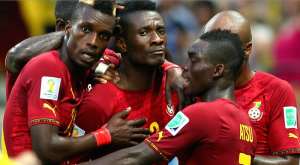 Amid off-field distractions, players of the Black Stars are focused on their World Cup final Group G match, says Ghana FA President Kwesi Nyantakyi.
Just days to the big game against Portugal, the Daily Telegraph and Channel 4′s Dispatches programme allege that the sport body had agreed to take part in international football matches organised by match fixers.
However, Kwesi Nyantakyi says the matter has been explained to the Ghana team, who play the Portuguese in the final group fixture seeking to reach the second round.
"The players are very active on social media and are very active in the news media and they are aware of what is going on," GFA President, Kwesi Nyantakyi told www.ghanafa.org.
"We have explained to them and our motive is to insulate them from some of this challenging publications that are intended to disturb the focus of our team.
"They seem to appreciate what we trying to do. I can assure everyone that this negative reportage has no negative effect on the psyche and the focus of our players."
All teams in Group G – Ghana, Germany, Portugal and the U.S – are still alive in the qualifying for second round places.
A 2-2 between the United States and Portugal on Sunday means the competition will go to the wire with the final matches set for Thursday.
The result left Germany and the U.S. level at the top of the group on four points and Portugal and Ghana on one each.
Germany and the U.S will face each other while Ghana take on Portugal in the final group games.
The Black Stars need a big win and hope the other fixture does not end in a draw.