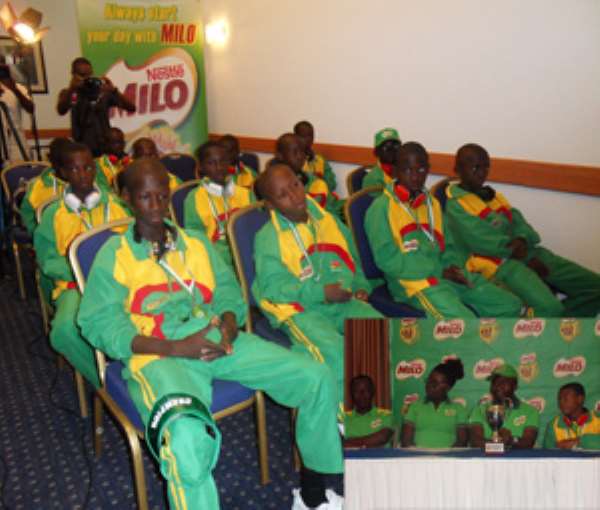 The team at the post-event press meeting. INSET: Officials of Nestle and the team on the high table
Category Manager of Nestle Milo, Olufemi Akintola, has said the Milo U-13 soccer championship offers the best of platforms for players in their formative careers.
To him, besides grooming the young players, the championship exposes the children to scouts who monitor the progress of the young players and guide them in their careers.
Azogbeli LA Primary School Boys, Ghana's representatives in the just-ended African championship held in Nigeria, finished as losing finalists to the host country.
Despite their 4-5 defeat on penalties as defending champions, Olufemi indicated on the team's arrival at the Fiesta Royal Hotel in Accra last Sunday that the team learnt the core values of sports which are team work, determination, confidence, among others.
He added, 'One good thing about that this competition is that it gives   children with the potential the needed platform to express themselves.  Scouts also attend events which to help the young players in the long run.'
Ghana defeated Kenya 5-0 on their way to the final, fought from two goals down to draw 3-3 with Nigeria in the final and lost narrowly 4-5 after the spot kicks.  South Africa defeated Kenya in the third-placed game to pick the third place prize.
Skipper of the side, Abubakar Shaibu, expressed gross thanks to Nestle Ghana Limited for the opportunity and urged his colleagues to esteem discipline.
By Kofi Owusu Aduonum