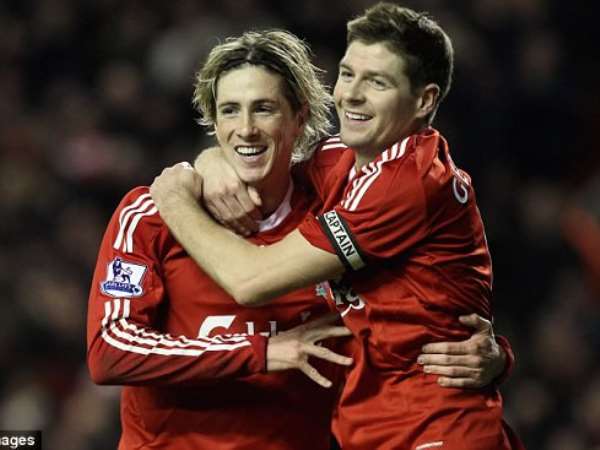 Chelsea striker Fernando Torres has revealed the pain he caused Liverpool captain Steven Gerrard when he told him he was leaving Anfield for Stamford Bridge three years ago.
The striker signed for Chelsea in a £50million deal in January 2011, on the same day Liverpool signed Andy Carroll from Newcastle for £35m.
Torres scored 81 goals in 142 games for the Reds, playing arguably the best football of his career and even though his form dipped at the end of time there, the Anfield faithful was understandably miffed to see him leave - as, it seems, was Gerrard.
'One day, Steven Gerrard came to say to me, "Fernando, now, you have to think of yourself. Do what you have to do",' Torres told French magazine So Foot.
'But when I went to tell him that I was going to accept the Chelsea offer, it destroyed him. Announcing my departure from Liverpool to Gerrard was one of the most difficult moments of my career. 
'He was my best team-mate and I am not sure of finding another like him in the future. We were made for each other.'
Torres added that he felt he had to leave Liverpool at that time in order to win trophies.
'At Liverpool, I had almost everything but titles. There, I felt like a king but the team was falling apart.
'The directors had sold [Javier] Mascherano to Barca, then Xabi Alonso to Real Madrid without investing any of the money to compensate for the departure of these two key players.
'I was 27, I wanted to know what it was like to lift the Champions League and I had the feeling it was not going to happen with Liverpool. 
'Then they were in full transition, the club was being sold and in that case, unless you are Manchester City or PSG, it can be a long road before you are again competitive.'
Struggle: Despite winning the Champions League, things haven't worked out at Chelsea for Torres
 
And even though Torres went on to realise his dream of lifting the Champions League with Chelsea, his form has been patchy and as a result, he was in and out of the team under the management of Carlo Ancelotti, Andre Villas-Boas and Roberto Di Matteo.
'At the time, David Luiz and myself went to see Ancelotti together because we had been the last arrivals, we were told we would be important, but, in reality, we weren't playing. They finished by saying to us: 'We are going to finish the season with the team that started it'.'
'I understood nothing of what had happened. I started to know the experience of the bench. I reassured myself by saying things would soon change. Villas-Boas arrived, then Di Matteo but it was always the same: one day I played, the next not.'