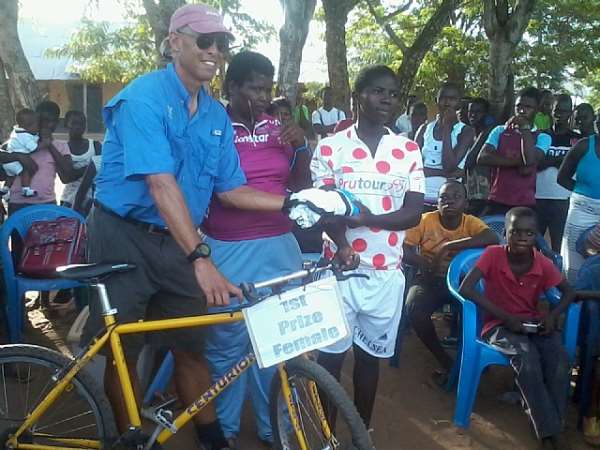 Pac Tour cycling club in partnership with Vida cycling program has organized a nationwide tour for female cyclist in Ghana. The tour which will cover 1000km is sponsored by Pac Tour cycling club base in United States.
The decision to tour the country was arrived at after a successful Grass-Track Cycling race in Apeguso last month to educate and promote female cyclist in Ghana. The tour which will bring together amateur female cyclist in the country is expected to nurture the cyclist for future junior international tournaments.
Lon Heldman', Director of Pac Tour cycling expressed gratitude to Vida cycling program for unearthing the talents of female cyclist in the country. Mr. Lon promised to sponsor and develop some deserving cyclist to junior tournaments in future. 'Am happy to see girls ride with high optimism.
It's a good initiative taken by Vida which needs to be applauded because I can see a lot of talents here. All these potential girls need is to be guided and they will become future champions. I will sponsor and tour the country with them in November this year to help develop them' he said.
The Director of Vida cycling program, Vida Vivie also articulated her desire to ignite the cycling passion of female cyclist in Ghana by organizing events for them. 'Our aim is to assist many female riders to find their cycling passion using grass track cycling sports. We hope our teachings and efforts will build these riders into future stars as expected'.
The tour which will last for 10 days is expected to bring together some top amateur cyclist such as Rachel Toka, Vivian Huandi and Celestine Xevi.