2014 World Cup: Ghana defender John Boye delcares himself fit and ready for Brazil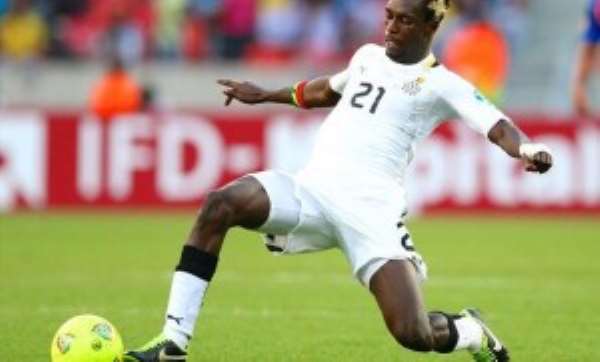 Ghana defender John Boye is confident he will make the Black Stars squad for the 2014 World Cup after recovering from injury and gaining playing time with his French club Rennes.
A troubling thigh injury threatened to rob the centre-back of the chance of playing at the tournament in Brazil after being ruled out of action for about six months.
After recovering from the injury, Rennes hardly used in which also looked like conspiring against Boye for his first appearance at the World Cup.
But for four weeks now the Ghana defender has been played by Rennes as they battle against relegation and he has been in outstanding form for the club.
Boye is delighted that he has regained his form and waiting eagerly to make the Ghana squad to the World Cup.
"Now everything is fine and I have started playing so I am 100 percent fit and I am playing in most of the matches. Normally, if you go to the World Cup, it makes you great," Boye told Power FM.
"It will help you know the level of quality you have because you are going to meet a lot of strikers and that is where you will see it yourself whether you are a good player or you are not a good player so it's a challenge.
"I am just happy that I am going to meet those big strikers and big players."
Boye is one of Ghana's key central defenders along with the likes of Isaac Vorsah, Jonathan Mensah, Jerry Akaminko and Rashid Sumaila.
The France-based centre-back, who played for Heart of Lions in the Ghanaian top-flight, is regarded as one of Ghana's key players and with seven matches in the bag since his return from injury he looks set to play in Brazil.