Cheki Ghana Partners Black Stars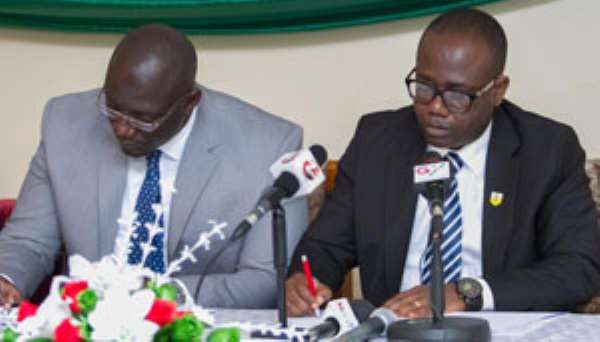 Amoako Twum (L) and FA boss Kwesi Nyantakyi signing documents of the contract
Cheki Ghana, a leading car advertising company in Ghana, is the latest corporate entity to rally support for the Black Stars ahead of the Brazil 2014 World Cup.
As part of the number one car website's package, it presented a $100,000 cheque for a two-year period to the Ghana Football Association (GFA) on Thursday at the FA's head office in Accra.
Country Director of Cheki Ghana Eric Amoako Twum, in his address, pointed out that 'we see this as an important corporate social responsibility, as we know when the Black Stars excel, the whole nation gets a lift and as well brings to the fore the spirit of patriotism and unity amongst all Ghanaians.
'We also understand the passion of the nation when it comes to football, hence this support which gives us all the benefits as a category sponsor.
'Cheki considers this partnership with the Black Stars as a catalyst for a long term relationship which will reap benefits for us as a brand and corporate entity as well as the football fraternity in Ghana,' he added.
The Cheki brand is present in over 10 countries and still growing. Cheki.com.gh is Ghana's number one car website, with a vision to create a marketplace for cars, with an extension into finance, insurance, accessories and parts.
Cheki Ghana is part of One Africa Media, a group of companies present in 22 African countries, which makes it Africa's largest online and digital media company.
Eric Amoako Twum mentioned that his outfit would provide full support to the Black Stars even beyond what the contract stipulates, and mentioned that the sponsorship would be extended to the sporting media.
'I will also like to use this opportunity to announce that we will be sponsoring two sports journalists on a full expense paid trip to Brazil to cover the World Cup. Modalities for that will be announced shortly.'
By Kofi Owusu Aduonum