FIFA presidential race: Webb declares for Blatter, Platini canvases, Champagne bubbles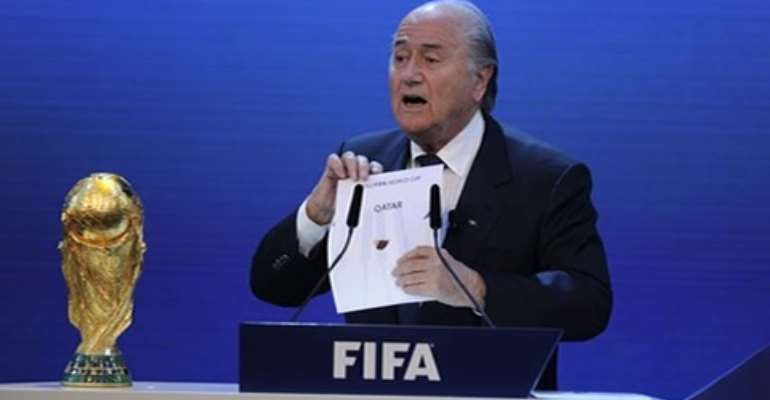 Speaking in Toluca, Mexico, CONCACAF president Jeffrey Webb said that he would support the re-election of current FIFA president Sepp Blatter for a fourth term if he decided to stand. 
In an interview with The Associated Press he said: "We have a president Joseph Blatter who has indicated to us and to the world that he is healthy and if we want him to will continue."
Webb said his region is "comfortable" with the mandate of Sepp Blatter as president of FIFA.
"FIFA is in a great position from a financial point of view, of course many people have different opinions, especially on the integrity and transparency, but we are comfortable with Blatter," Webb said.
Whether the next FIFA presidential election is contested or not remains a matter of speculation. Blatter hasn't officially declared, while UEFA president Michel Platini has said he will not make a decision on whether to run for the FIFA presidency until after the World Cup.
Platini was recently in the Caribbean and signed a Memorandum of Understanding (MoU) between UEFA and CONCACAF with Webb. Platini then made a tour of the Caribbean and was reported as saying that he was the only potential candidate who could defeat Blatter in an election.
Many in FIFA circles had suggested Webb might be a potential candidate for the FIFA presidency as he is a younger man than the current incumbent and in a short time as president of CONCACAF has brought enormous change to a region that was previously the fiefdom of Trinidad's Jack Warner as president and the American general secretary Chuck Blazer.
That challenge is really only beginning, particularly in the Caribbean.
Platini's Caribbean tour took in FIFA-sanctioned island Antigua where he met with Antigua and Barbuda FA general secretary Gordon Derrick, who is also the president of the Caribbean Football Union (CFU) appears to becoming an active powerbroker in this position.
While no detail of their conversation has been released, Derrick has a track record of harnessing the CFU vote as a block vote, as seen in the CONCACAF elections last year when he issued a letter, in French, outlining the 'CFU' candidates and promoting American Sunil Gulati for the FIFA executive committee position but not mentioning his rival, Mexican president Justino Compean. Gulati was elected on the Caribbean vote.
Platini's courtship of Derrick – ostensibly to promote the role of smaller federations in the face of the larger football economies – is well timed as Derrick has also let it be known that he has ambition for the presidency of CONCACAF.
It would be an interesting choice by the CFU membership to back Derrick's ambition as he was personally reprimanded by FIFA for his part in the 2011 cash-for-votes scandal that brought down Mohamed Bin Hamam and Jack Warner.
More recently Derrick has again found himself in hot water when his federation has had its GOAL funding suspended by FIFA for financial irregularity. The ABFA had mortgaged the Paynters training ground for $1 million at the Antigua Commercial Bank where Derrick is a vice president. The bank took a charge over the land hence breaking FIFA regulations.
Described as an "oversight" by ABFA president Everton 'Batow' Gonsalves, the ABFA has subsequently said that this has been released.
The one candidate to declare his candidacy is another Frenchman, Jerome Champagne, a former FIFA insider. Champagne last week released another pillar of his FIFA presidential manifesto. Though Champagne has said that he would not run against his former boss Sepp Blatter.
It is unclear whether Champagne would be able to stand in the election as he may not meet the requirement of having held a position in football recently enough. Champagne has been running his own football consultancy business.