Moyes Sacked As Manchester United Coach, Giggs Gets Job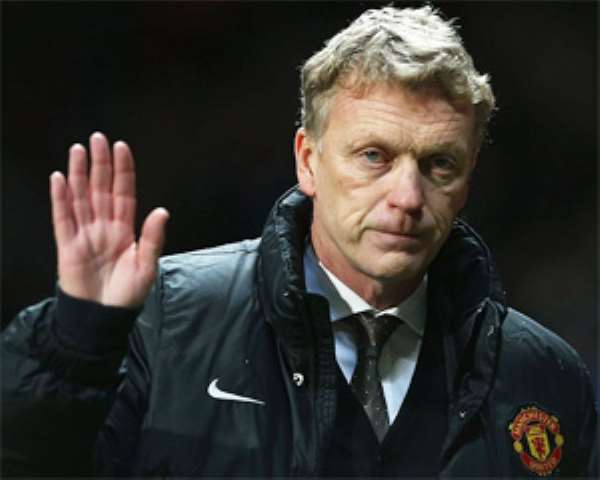 Manchester United manager David Moyes has been sacked, only 10 months after succeeding Sir Alex Ferguson at Old Trafford.
The club had previously refused to comment on national newspaper reports on Monday that Moyes would be dismissed before the end of the season.
Moyes, 50, was chosen by Ferguson as the man to succeed him when he retired after 26 years in charge last summer.
Moyes left Everton to sign a six-year deal with the Premier League champions.
In a statement the club said it "would like to place on record its thanks for the hard work, honesty and integrity he brought to the role".
 
Manchester United confirmed on Tuesday that David Moyes has been dismissed as manager.
Moyes replaced Sir Alex Ferguson last summer on a six-year contract, but he has been relieved of his duties after Sunday's 2-0 defeat to former club Everton, which left the club unable to qualify for the Champions League.
A statement on the club's official website read: 'Manchester United has announced that David Moyes has left the club.
'The club would like to place on record its thanks for the hard work, honesty and integrity he brought to the role.'
Ryan Giggs, who had worked as player-coach under Moyes this season, will take temporary charge of the club, but there has been speculation for some time over Moyes' permanent successor.
Recent reports in the English press have suggested that Juergen Klopp has many admirers at Old Trafford, but Borussia Dortmund told ESPN FC on Tuesday morning that there is no prospect he will join United, 'even if some people don't want to believe it.'
United told ESPN FC earlier this month that there was no truth to reports of discussions with Louis van Gaal, who will leave the Netherlands after the World Cup, but Dutch newspaper De Telegraaf claimed on Tuesday that the former Ajax, Barcelona and Bayern Munich boss was headed to Portugal for talks with co-chairman Joel Glazer.
Former United defender Laurent Blanc, currently in charge of Paris Saint-Germain, has also been linked with the role along with Atletico Madrid coach Diego Simeone, although the Argentine does not speak English.
ESPN FC had reported last month that Moyes had lost the faith of key boardroom figures and his position was under serious threat.
On Monday afternoon, news of the Scot's impending departure broke, and although United insisted the manager had 'definitely' not been sacked, the club did not deny the stories that his exit was imminent.
Following the news, Sean Bones, vice-chair at Manchester United Supporters Trust (MUST), told Sky Sports News that he felt the situation had been handled badly, saying: 'This has been done without class and dignity. It's wrong to brief journalists the day before.'
United will finish the campaign with their lowest-ever Premier League point total, having lost 11 of their 34 games so far. They have also lost 10 of their 22 games in all competitions in 2014 and are certain to finish outside the top three for the first time since 1990.
Moyes took United to the Champions League quarterfinals, but his reign also included a Capital One Cup semifinal defeat to Sunderland, when United missed four of their penalties in the shootout, and an FA Cup third-round exit to Swansea at Old Trafford.
Moyes made two major signings as United manager, bringing in Marouane Fellaini from his former club Everton in September for 27.5 million pounds and Juan Mata from Chelsea in January for a club-record 37.1 million pounds.
There have been reports of unrest among United players, always denied, during his reign but the club, who claimed 89 points to become Premier League champions last year, are enduring their worst season for a quarter of a century