Ghanaian midfielder Duncan facing uncertain future at Livorno after coach Di Carlo's sacking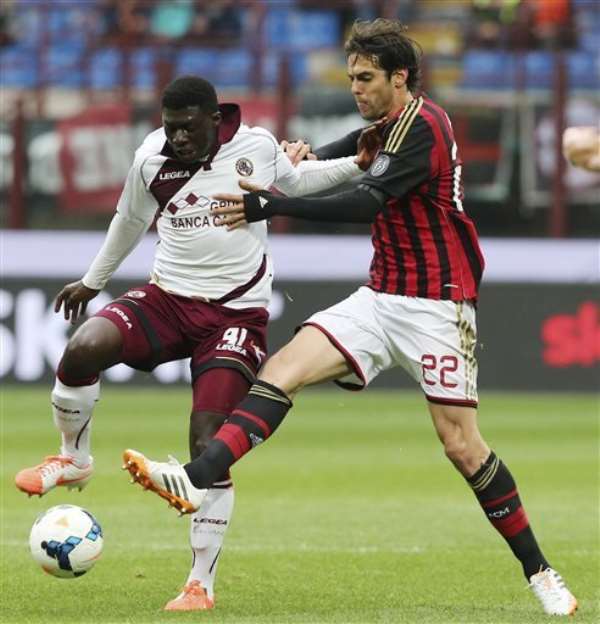 AC Milan Brazilian forward Kaka, right, challenges for the ball with Livorno midfielder Joseph Duncan, of Ghana, during the Serie A soccer match between AC Milan and Livorno at the San Siro stadium in Milan, Italy, Saturday, April 19, 2014.
Ghanaian midfielder Joseph Duncan is facing uncertain future at Italian side Livorno after the club fired coach Domenico Di Carlo and rehired Davide Nicola.
The relegation-threatened side fired Duncan's mentor following a 3-0 loss at AC Milan on Saturday which plunged the club into the relegation zone.
The Tuscan club announced the move on its website on Saturday, with four rounds remaining in Serie A.
The defeat left Livorno second from bottom, two points above last-place Catania and three behind Sassuolo and Bologna.
The bottom three clubs will be relegated.
Nicola was fired in January, then Attilio Perotti, the club sporting director, was put in charge for a week before Di Carlo was hired.
There could be a glimmer of hope for Duncan as he had previously worked under Nicola and could be given starting roles at the club but with the technical changes the new coach could experiment with some changes in his playing staff.
In 34 matches, Livorno has won just six, with seven draws and 21 losses.
Last season, Nicola led Livorno up from Serie B.