South African side AmaZulu to sell the properties of Ghanaian midfielder Issah to recover $170,000 debt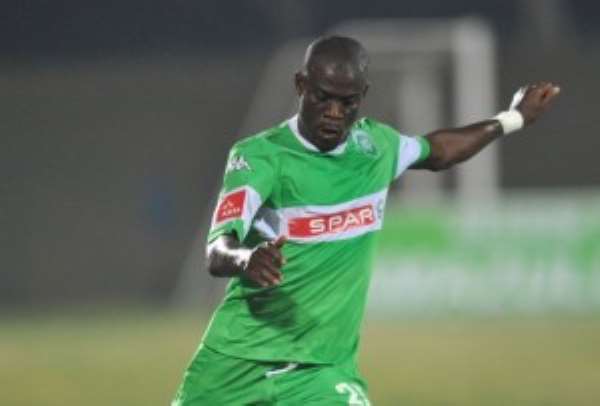 Issah has been ordered to pay Amazulu about $170,000
South African side AmaZulu are considering selling the properties of Mohammed-Awal Issah to recover the $170,000 damages slapped on the Ghanaian midfielder for breach of contract.
The Durban-based club say they will use all means necessary to recover the debt even if the Ghanaian player decides to quit football after the South African football authorities slapped the Ghanaian for disappearing from the club despite signing a three-year contract with the club.
The PSL side insist Issah will have to pay the damages before they issue him with a clearance if he still wants to continue with his career.
They will even consider selling his properties in Ghana to recover the $170,000.
AmaZulu revealed on the club's official website that Issah was ordered by the PSL's Disciplinary Resolution Chamber (DRC) to pay the Durban-based side damages of more than $170,000 for breach of contract.
The Ghanaian disappeared from Usuthu after only making two starts although he signed a three-year contract when he joined the KZN outfit this season.
AmaZulu Marketing and Brand manager, Lunga Sokhela, confirmed that any club that is interested in the player may have to pay the fee to get a clearance.
"All we are saying is that if he wants to play football and goes to club X, we want to be compensated as AmaZulu before he plays for that club and before we can issue his clearance. It's a different story if he decides tomorrow that, 'Okay, I'm hanging up my boots, I don't want to play football anymore.' I don't think it will be worth going the whole legal route, suing him and trying to attach his assets and all of that.
"However, we might well do it. This is a player that spent a couple of years at Red Star Belgrade (Serbia) where he was a top player. From there he went to Rosenborg in Norway. He has accumulated quite a bit of money. We're not talking about a poor fellow here. He's accumulated a couple of millions I'm sure.
"I don't think that shouldn't be possible. I'm sure that if we have to attach or look at some of the properties he probably owns in Ghana for instance and some of the assets he has they do accumulate to R1. 7 million," said Sokhela.