MoFA Lawyer Grilled At Judgement Debt Commission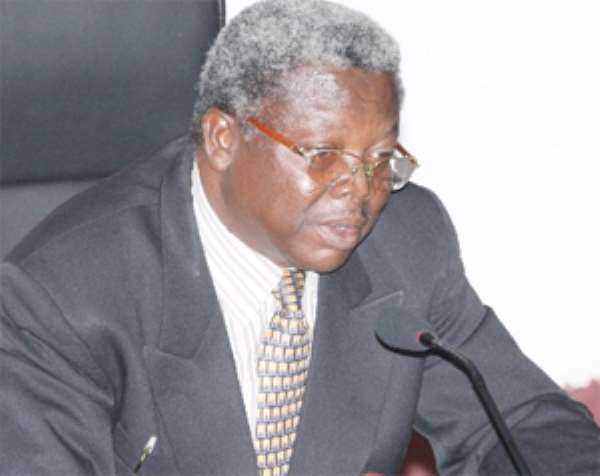 Justice Yaw Apau
A lawyer with the Ministry of Food and Agriculture, Seth Mensa Dumogah, was yesterday grilled by the Commission of Enquiry set up by President John Dramani Mahama to investigate the payments of judgement debts.
A petitioner, Evangelist Nana Sankrankye Attah who presented himself as onetime head of Bentiamina Clan, which is the Adonten Division of Buem, is accusing the lawyer of going to court to pursue compensation claims for the family when he, Nana Sankrankyi, had never met Mr. Dumogah or asked him to do anything for them.
According to Mr. Dumogah, he was instructed by one Emmanuel Ofori to pursue the claim for compensation for the acquisition of a 32.68-acre land by the government for the Jasikan District Assembly.
Give and take
Counsel for the Commission, Dometi Kofi Sorkpor,  sought to know from Mr. Dumogah what indeed transpired before a High Court awarded GH¢42,000 which has accrued interest up to GH¢998,000 as judgement debt.
Counsel (Sorkpor): Do you know Nana Sankrankye Atta?
Witness (Dumogah): I know him now…before I went to court I did not know him.
Counsel: How did you take your instructions?
Witness: I took my instructions from Emmanuel Ofori who held a power of Attorney for Nana Sankrankye Atta. We already have a copy of the power of attorney and that power of attorney clearly gave Emmanuel Ofori the authority to take any necessary step to represent the family.
Counsel: Is it the case that the grantor of the power is not seen for instruction to be taken from him but you proceed to take instructions from the one who has the power of attorney. Is that the normal practice in law?
Witness: When you give your power of attorney to someone and ask that person to act in your name with your authority, that person can go ahead and do what you have asked him to do without a lawyer having to go back to the grantor.
He said the case came to their chamber in 2007 and he was assigned the brief in 2008 to pursue the compensation claim, adding 'for me seeing the power of attorney, it was enough for me to proceed.'
Counsel: Is it not strange that the owner of the matter is not seen but somebody brings a power of attorney and you act on it and proceed to court.
 Witness: Anytime we went to court we were accompanied by the people from the family.
Counsel:  The people from the family were never party to this suit. The principal actor in the matter, Nana Sankrankye Atta, was not in court.
Witness: I went to court because of the attorney and the attorney had the power to do so.
Counsel: There is nowhere in the power of attorney which states that there is an issue of any party proceeding to court.
Witness: I beg to differ.
Counsel:  To pursue all claims; it is the same as to litigate the matter?
Witness: I do not see the distinction here. If I am entitled to pursue all claims then I am entitled to litigate as well.
Sole Commissioner Justice Apau reminded the witness that Nana Sankrankye Atta had not asked him to go to court to claim compensation. He had applied to the Lands Commission for the compensation to be paid and that was the claim he was making, adding 'if they wanted you to go to court he would have added it in the power of attorney.'
Mr. Dumogah replied that under the rules of interpretation a lawyer could give what he called a literal translation as well as restrictive translation to the issue and said if the Commission was to give a total interpretation it would mean that the petitioner asked his power of attorney to do anything including going to court to claim compensation.
Counsel (Sorkpor): Did you refer this document to Nana Sankrankye Atta?
Witness (Dumogah): No, I did not.
Counsel: As a lawyer, do you wait for someone to bring an attorney without you physically pursuing the grantor of the power of attorney?
Witness: In practice it happens all the time. Somebody comes to you with an already prepared power of attorney and you act on it.
Counsel: How then do you verify that it is coming from proper custody?
Witness: Unless the plaintiff is denying that he did not sign this document.
Justice Apau: Are you saying that anybody at all can come to you holding a power of attorney and you have not seen the person who granted the power?
Witness: It will make sense to verify.
Justice Apau: And when the man came to say he didn't ask you to pursue the matter in his name, you go and prepare a declaration that he is no more the head.
Counsel:  You got judgement in the name of the person and it is this man's name that is being displayed before all the courts and the man doesn't know anything about it.
Witness: We seem to be jumping ahead of ourselves. At the time the case started and ended he was still the head of family. The case lasted within six months.
Justice Apau: Your own petition you brought before us, you attached a declaration. You said in the declaration that Nana Sankrankyi Atta could never have been the head of the Bentiamina family from day one. You were bandying this around but when he challenged your authority to the action you then relied on the declaration prepared by them.
Witness:  The essential thing is that he does not deny giving this power.
Justice Apau: But his power did not say you should go and litigate. Your declaration attached speaks for itself.
By William Yaw Owusu