Stars To Rock Accra Fans … Before Brazil 2014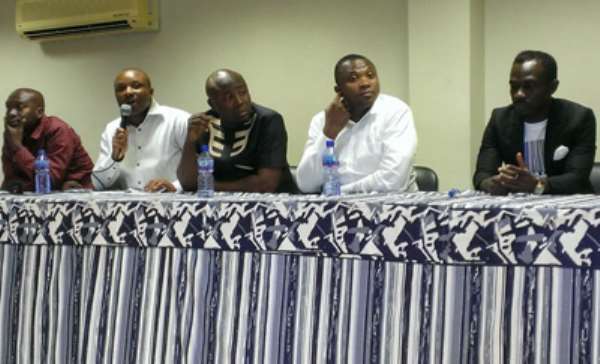 By Kofi Owusu Aduonum
Addo (L) Asare, Otoo, Daara and Kwame at the launch

Coach Kwasi Appiah and his 23-man World Cup squad are expected to give a foretaste of what they will demonstrate in Brazil when they take on a local select side in a friendly game at the Accra Stadium on May 23.
The event, the very first in the country's football history, is to give the soccer fans the opportunity to bid farewell to the senior national soccer side ahead of the Summer World Cup.
Arranged by Primeval Consult, the Chief Executive Officer, Larry Opare Otoo, said Ghanaians will be given the chance to select their own local side and technical bench to play the Black Stars and there will be an appearance fee of GH500 for the 23 players who will be selected.
He indicated that 15 players will be drawn from the Premier League, five from the Division One League and two from the Division Two League.
He added that the selected coach will also have GH1000, GH800 for the assistant coach and team doctor. GH500 will also be given to the team's physiotherapist and team manager.
Communication Director of Primeval Consult, Jeffery Asare also explained that Ghanaians will have to select their players and technical bench by texting their full name to the short-code 1413 to all mobile networks.
'There will be consolation prizes for the person with the highest texting who will win a plasma television and other prizes like tablets, mobile phones and VIP tickets to the event.'
He also mentioned that former Ghanaian player, Joseph Addo, will be the coordinator for the local select side who will be called 'Dream Team.' Deadline for texting is May 19, 2014.
Communications Director of the Ghana Football Association (GFA) Ibrahim Saani Daara pledged the FA's support for the initiative.
A number of artistes have been lined up to perform at the event.
Hip-life heavyweight Okyeame Kwame, thanked Primeval for giving them the opportunity to be part of the team's farewell ceremony.
He assured Ghanaians of a good quality performance and entertainment from artiste like Shatta Wale, Kwaku Gyasi, Castro, MsVee and the NOYAM dance group.
By Kofi Owusu Aduonum