BIEGE Capital Supports Black Stars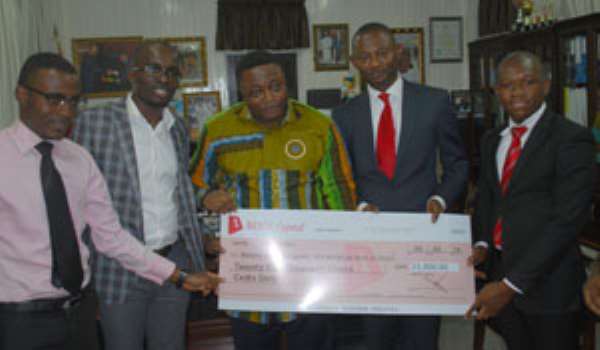 Elvis Afriyie-Ankrah (M) recieving the cheque
BIEGE Capital, a savings and loans financial institution, has presented a cheque of GHc25, 000.00 to the Ministry of Youth and Sports at a ceremony at the Minister's office in Accra.
The Chief Operating Officer (COO) for BIEGE Capital, Samuel Osew Kwatia, said the donation was his company's social responsibility to support the Black Stars   for the Brazil 2014 World Cup.
He indicated that his outfit believed that football had become an important unifying factor in the country and it was therefore imperative to take steps through such donations, to sustain such efforts.
He urged the Black Stars to go the extra mile saying, 'Train hard so you can realize Ghana's dream of emerging as the ultimate winners in the soccer festival.'
The Beige Capital boss explained that though his outfit had been in the system for barely five years, it could boast of 41 branches throughout the country, and was delivering the highest standards of financial services to their clients.
Youth and Sports Minister, Elvis Afriyie-Ankrah, commended BIEGE Capital for the gesture and assured them that the money would open the door for cordial business communications between both organizations.
He added that BIEGE Capital and other institutions which would make donations to support the Black Stars would also be recognized in what he referred to as a backdrop in all events related to the World Cup.
The Minister said the World Cup is not just soccer but a huge business platform for all who will be attending and have hopes for exploring new markets.
Mr. Afriyie-Ankrah further said the Ministry would put in place two key platforms in Ghana and Brazil which would serve as centres to project Ghana, adding that the Ghana Centre at Brazil is referred to as 'Ghana Plaza'.
The Minister revealed that the Ghana Plaza would show videos and discussions on promoting Ghana to tourists and potential investors during the world cup matches.
He continued that a Fun Park would be created at various locations throughout the country where soccer fans would coverge to view live matches from Brazil
 By Solomon Ofori