Ghanaian midfielder Bonsu unperturbed despite Mjällby poor start to the Swedish season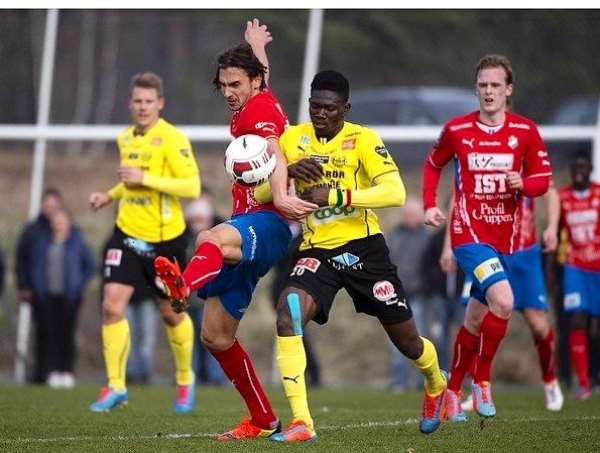 Kwame Bonsu, right in a banter for the ball, is confident his side will bounce onto winning ways
By Akyereko Frimpong Manson
Follow Akyereko on Twitter: @ Akyereko
Ghanaian youth midfielder Kwame Bonsu remains confident Mjällby will get things right after getting off to a wrong start in the Swedish top-flight.
Friday night produced yet another disappointment for the Hällevik-based side as Djurgården consigned them to a 2-0 defeat at the Strandvallen.
But the 19-year-old remains confident his side will bounce onto winning ways.
"Well it is a little bit disgusting losing at your own home grounds but aside that I'm really happy about my performance," he told GHANAsoccernet.com.
"We just started the league and things are not going well with us but that's how sometimes it is… Sometimes you start very bad in the beginning but it gets better as time goes on.
We just have to forget about this game and keep our focus in the next game," he concluded.
Bonsu was starting his second game of the season after playing in the second week defeat to newly-promoted Örebro last weekend.