Exercise Reduces Medical Bill …Military Commander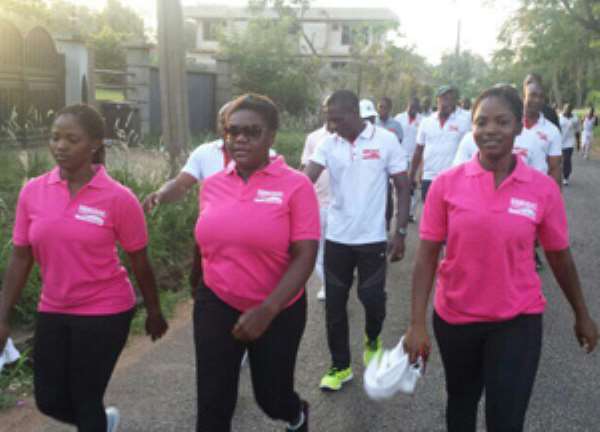 Participants during the walk
Participants during the walk
BRIGADIER-GENERAL Joseph Adu Boampong, General Officer Commanding, Northern Command of the Ghana Army, has urged Ghanaians to exercise regularly.
He stated that exercise had several positive outcomes including making a person fit and strong thereby 'reducing the person's medical bill'.
Brigadier-General Boampong said people who exercise regularly hardly fall sick so they save monies which they would otherwise use to buy medicine.
He was speaking to DAILY GUIDE SPORTS during a health walk organized by the 4 Garrison Officers Mess Tennis and Squash clubs last Saturday.
The event, which was graced by military personnel, started at the Ridge Park through to Regional Office, Dakwadwom, Santase Roundabout and ended at the Ridge Park.
President of the Mess Tennis Club, Samuel Ampadu-Kyei aka 'Kyikyiss' said the walk was to help the participants improve upon their stamina.
He said the exercise was also aimed at strengthening the bond of unity among the members of the clubs, promising that the walk would be replicated periodically.
Kwame Osei Prempeh, Vice Captain of the Squash Club, described the walk as a wonderful exercise, hoping it would be repeated very soon.
Meanwhile, the 4 Garrison Tennis and Squash clubs have officially welcomed DCOP Kofi Boakye to the area as the Regional Police Commander.
The leadership of the two clubs, after the walk on Saturday, visited the home of the police capo to welcome him.
FROM I.F. Joe Awuah Jnr., Kumasi