Tony Baffoe Lauds Right To Dream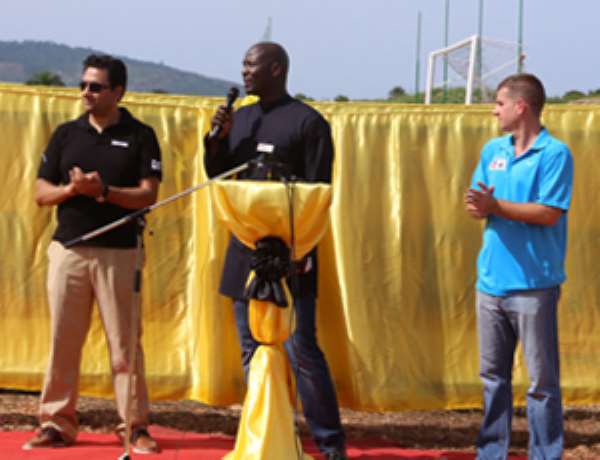 Baffoe poses with Right to Dream boss Tom ( R) and Mantrac chief
General Secretary of the Professional Footballers Association of Ghana, Tony Baffoe, has described the Right to Dream (RtD) as a leading example in Africa when it comes to combining academics and football.
RtD has 40 graduates who are furthering their education on student athlete scholarships at leading colleges and universities in the United States of America and the United Kingdom, while an additional 24 graduates have signed professional contracts including Abdul Majeed Waris, David Accam and Mohammed Abu.
Speaking at the launch of 'the Mantrac Centre', a state-of-the-art training facility, at the academy in Old Akrade in the Eastern Region, Tony Baffoe praised the achievements of RtD.
'Right to Dream is an example in Africa when it comes to the combination of academics and sports,' Tony Baffoe said.
'It takes a lot to have a vision like Tom Vernon has and still continue with it.  We all went through it and we know what it takes to get to where the likes of Stephen Appiah, Joe Addo and Augustine Arhinful got. The PFAG is very proud of the young players at RtD and we will continue to support you.'
With the benefit of training on the world-class pitches at the academy, RtD has gone on to play at some of the most prestigious youth tournaments in the world - achieving top eight status at the U-15 World Finals of the Manchester United Premier Cup, and placing third at the U18 Gothia Cup in Sweden.
Baffoe, an African Nations Cup silver medallist with Ghana, commented: 'I must tell you that every time I come here, I see change: not only change in infrastructure but also a change within the attitude and character of the young and upcoming players, which is fantastic.'