Transport operators increase fares by 10%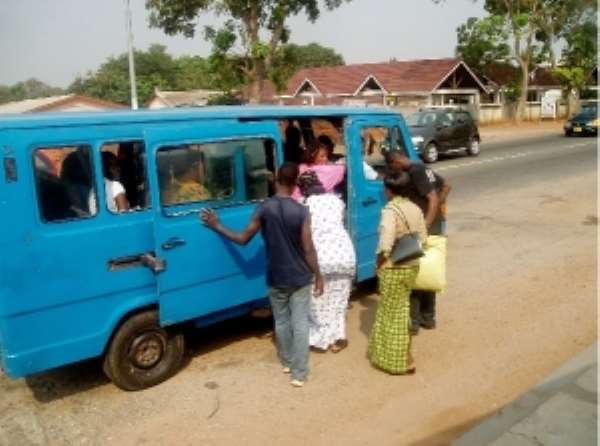 The Ghana Road Transport Coordinating Council (GRTCC) has decided on a 10 per cent upward adjustment in road transportation fares, following last week's increases in fuel prices by seven per cent.
The decision is based on consultations among the various partners in the road transport sector and previous agreements between transport operators and the National Petroleum Authority (NPA).
The agreements enjoin transport operators and other stakeholders to increase transport fares when fuel prices are increased above 10 percentage points.
The General Secretary of the GRTCC, Alhaji Aliyu Baba, made this known to the Daily Graphic in Accra yesterday. Genesis
In August 2013, the NPA announced increases in the prices of some fuel products, with premix fuel getting the highest increase of 19.94 per cent, although premium and diesel prices remained unchanged.
At the same time, transport operators in the country instituted a new system which took into account other variables, apart from fuel cost, to determine new fares.
They maintained that fuel cost in the transport business was only about 26 per cent of operational cost and, therefore, it could not be the only determinant factor in fare increases.
A consultant's report on the cost of all other variables that go into the running of a vehicle commercially, including spare parts, vehicle registration, lubricants, tyres and fuel, informed an agreement to increase fares minimally in consideration of commuters.
The compromise also included the caveat that when fuel prices were increased above 10 per cent, it would attract further increases in fares.
That was because fuel increases above 10 per cent, coupled with other operational costs of running a vehicle, could not be absorbed any further by transport operators. Aftermath
Since the change in the computation of transport fares, fuel prices have been increased three times.
In mid-January 2014, the NPA increased fuel prices by six per cent. 
It resulted in 20 per cent fare increases, based on the new model that the executive of the GRTCC said included elements of all variables in operating a vehicle commercially.
Although drivers complained that the increase in fares would not enable them to break even when the fare increases took effect in the fourth week of January, their executives maintained that it would and encouraged them to stick to the approved fares as based on their computations. 
Writer's email: [email protected]