Ghanaian defender Schlupp celebrates Leicester City promotion to Premier League in grand style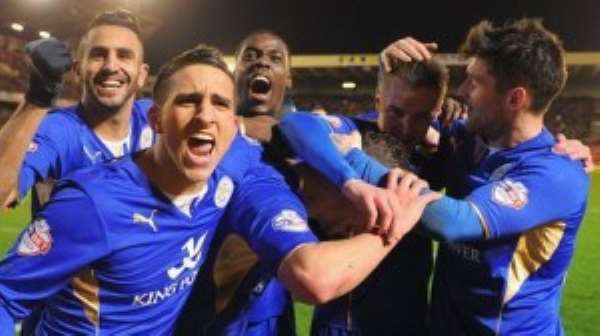 Schlupp joins his Leicester City team-mates to celebrate their promotion to the top-flight
Ghana utility player Jeffrey Schlupp celebrated in grand style after his English club Leicester City were promoted to the Premier League on Saturday.
Leicester secured promotion after a combination of results in the Championship on Saturday went in their favour.
City, who beat Sheffield Wednesday 2-1 on Friday, needed Queens Park Rangers to lose at Bournemouth and Derby to fail to win at Middlesbrough.
The Rams lost 1-0 while Rangers suffered a 2-1 defeat.
It means Nigel Pearson's Leicester will line up in the top flight for the first time in 10 years next season.
The Foxes have earned their place in the Premier League with six games of the season remaining having won 27 of their 40 games so far.
Schlupp, who is eyeing a place in Ghana's World Cup squad in June, posted a picture on Twitter with a Leicester fan screaming 'Lets go f**king mental'.
Jeffery Schlupp tweeted this picture
The striker, who has been turned into a left-back, was instrumental in City's promotion playing most of their matches on their way to securing the qualification.
Other Leicester players – past and present – took to Twitter to celebrate their promotion.
Forward Gary Taylor-Fletcher said: "We are Premier League, say we are Premier League! Get in."
Ex-Leicester and England striker Gary Lineker, who scored 95 goals for the Foxes, tweeted: "Leicester City are promoted to the Premier League. A sentence I've been waiting to say for 10 years."