Asante Kotoko to rake in GH?120,000 from Superbets deal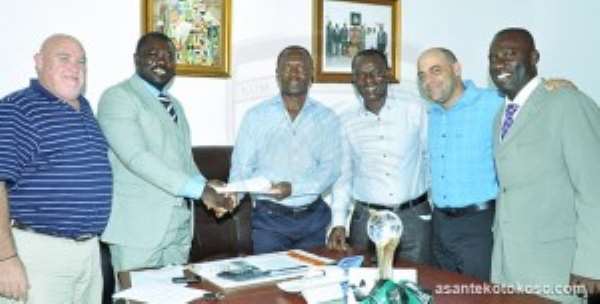 Kotoko and Superbets officials in a pose after the signing ceremony
Kumasi Asante Kotoko and betting company, Superbets have signed a three-year sponsorship deal that will see the fabulous club raking GH?120,000 every year.
The signing ceremony took place in Kumasi on Monday at Kotoko's Secretariat. Present at the ceremony were Acting General Manager, Opoku Nti; Operations Manager, George Kennedy; Superbets' Operations Manager, Fabrizio Lencioni and their Country Director, Danny Dayani.
George Kennedy, in an interview with asantekotokosc.com disclosed that the betting firm will give Kotoko GH?30,000 every three months thus the GH?120,000.
"That is the latest development in the club. We have signed a new sponsorship deal. Looking at the figures and the entire offer, it is the second highest deal after that of MTN" said Kennedy.
Asked what Superbets stands to gain in the new relationship, George Kennedy, among others gave this explanation: "They will have their insignia over our jerseys, on our bus, at our training ground, home matches and so on.
"It is important to state that, we have a crucial role to play to make this relationship a meaningful one. We will adhere strictly to the demands of the contract for mutual benefits" added the Kotoko Operations Manager.
The coming of Superbets brings to nine the number of sponsors Kotoko has at the moment.
The current management has been working on a few more deals.