France-based defender Jonathan Mensah delighted over his Ghana return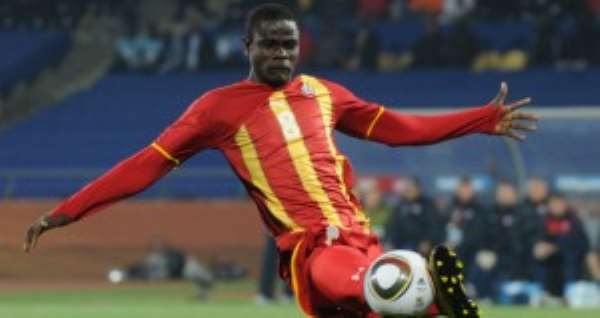 Jonathan Mensah is delighted over his return for the Black Stars
Ghana defender Jonathan Mensah has expressed his delight over his return to the national team after being invited for next week's friendly against Montenegro.
The France-based powerful defender was part of the 21-man squad named by coach Kwesi Appiah for the last match before the Black Stars World Cup squad is named.
The Evian centre-back missed the World Cup qualifier against Egypt in Cairo in November because of injury but has recovered and gained fantastic form in the French top-flight.
Mensah says he is happy to rejoin the Black Stars as they prepare for the World Cup with the friendly against Montenegro on 5 March.
"On a positive note, I'm happy to back in the Ghana squad for the friendly with Montenegro next month," the defender, who plays for French side Evian, said.
"It will be good to see my national team-mates again after missing the last international fixture through injury."
Mensah is one of Ghana's most reliable central defenders going into the World Cup in Brazil in June.