Queens Sure Of Victory Over Burkina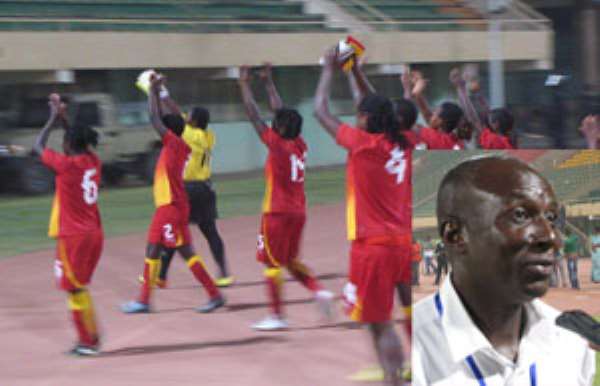 Black Queens responding to applause from supporters. inset Head Coach, Yussif Basigi
Head Coach of the Black Queens of Ghana, Yussif Basigi, has expressed optimism ahead of their clash with the Etalon of Burkina-Faso, saying his side will qualify for the next stage of the Africa Championship qualifiers.
Ghana will play Burkina-Faso on February 28 in the return leg of the qualifying series for the Africa Women's Championship.
According to him, his ladies were in good shape and would overcome any obstacle, especially when the team were now conversant with their Burkinabe counterparts.
The senior female national team of Ghana scored the Etalons 3:0 on Sunday night at the 4th August Stadium in Ouagadougou in Burkina-Faso, in the on-going African Women's Championship qualifications. The match was the Queens' first in the qualifiers.
With this goal margin, the Black Queens had taken a comfortable lead ahead of their Burkinabe counterparts even before the Etalons come to Ghana for their away match.
The score line did not come as a surprise to spectators, even the Burkinabes, as the Florence Okoh-led Black Queens looked far more composed and experienced than the Etalons.
Ghana, who were cheered on throughout the game by a handful of supporters from Tamale and Bolgatganta, scored through Ibrahim Faiza, who recorded a brace, and Aduaku Agnes.
The two-goal heroine, in an interview with DAILY GUIDE SPORTS, said the Queens could have scored a lot more goals but for the weather, which was not favourable for her and many of her colleagues.
"Many of my colleagues could not breathe well because of the harmattan. Many had dry throats and kept coughing as we played. It's good we had our goals early."
According to Faiza, the Queens would definitely win the return game in Ghana, which is their comfort zone.
From: Ebo Bruce-Quansah, Ouagadougo u