Suicidal soldier to be tried in death; likely to lose entitlements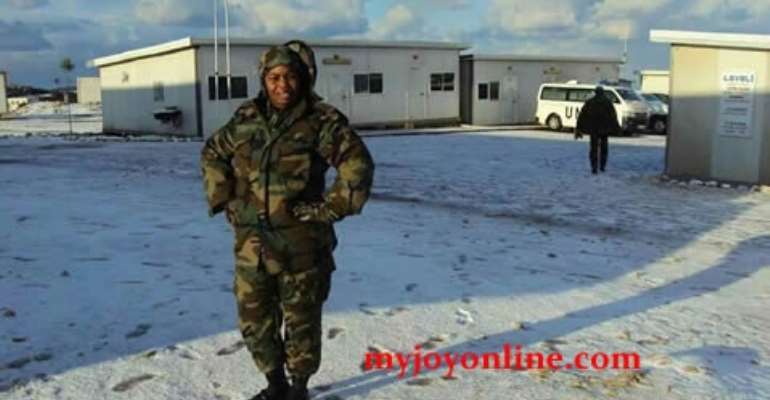 The body of the Ghanaian soldier who allegedly committed suicide after killing his wife, will be tried even in death, a source has revealed to Myjoyonline.com
The source says a committee is likely to be formed next week, to try Corporal Fred Nasrame, whose action is said to have dented the image of the military.
"Once you wear the uniform, you are a property of the Armed Forces so once you decide to commit suicide you are still our property.... if you decide to tarnish the property so, we will treat you as such...If he is found guilty then sanctions will apply," the source explained.
If found guilty, the family of the late Nasrame will lose all entitlements due him, the source said.
Corporal Fred Nasrame of the Armed Forces Pay Office allegedly shot his wife, Corporal Antoinette Agbagba of the Airforce, in the neck after some misunderstanding. 
Both bodies were found in their Michelle Camp residence, Friday - two days after the shooting.
The couple were set to mark their two years anniversary this March. But their marriage has not been rosy. Antoinette left the house after a disagreement to stay with her mother.
According to family sources she returned on Wednesday to collect some belongings - and never came back. Military officers came in for their bodies after two days and deposited them at the 37 Military Hospital morgue for autopsy.
The bodies will not be released anytime soon, the source revealed.
Boots, uniform and cap of the late Corporal Fred Nasrame will be put in the guard room for 90 days, an ex- military official revealed.
After the 90th day, his military apparel will be taken out and judged by a Military High Command as having committed murder. 
  Story by Ghana|Myjoyonline.com|Edwin Appiah|[email protected]