Prefos Supports Mess Tennis Club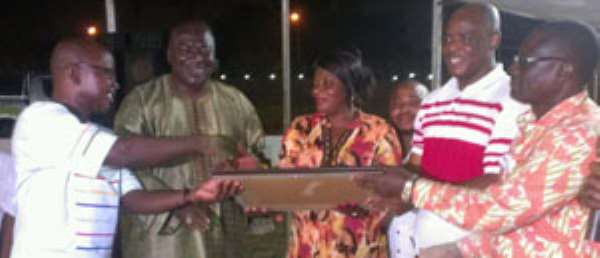 FROM I.F. Joe Awuah Jnr., Kumasi
Prefos Limited Boss Alex Kwasi Fosu (second left) receiving a gift from Mess Tennis Club officials
PREFOS LIMITED, which assembles streetlights, has pledged its support towards improving facilities at the 4 Garrison Officers Mess Tennis Club in Kumasi.
Managing Director of Prefos Limited, Alex Kwasi Fosu, said he would grant a request by the club to help give the place a facelift.
Speaking during the commissioning of a floodlight project at the 4 Garrison Mess Tennis Club, he said it was a privilege for him to work with the club.
Mr. Fosu said he would not hesitate to extend a helping hand to the club whenever he was called upon to do so.
He stressed that it was more blessed to give than to receive, therefore he would continually assist the club to improve on its facilities.
Mr. Fosu's company contributed more than 50 percent of the resources the Mess Tennis Club used in installing floodlights.
The Prefos MD gave the assurance that he would provide additional lights, cables and poles to help illuminate the place in the night.
President of the 4 Garrison Mess Tennis Club, Samuel Ampadu-Kyei, aka 'Kyikyiss', commended the Prefos Limited boss for his intervention.
He said it was the dream of the executives of the club to improve the facilities at the place in order to uplift the sport.
Kyikyiss announced that plans were in the pipeline to renovate the tennis club to improve its status.
He said drawings for works to uplift the club had been completed, saying that it would cost the club GHȻ31,000 to improve the place.
Kyikyiss said a new changing room for males and females and floodlights had been constructed at the place, promising that more would follow.