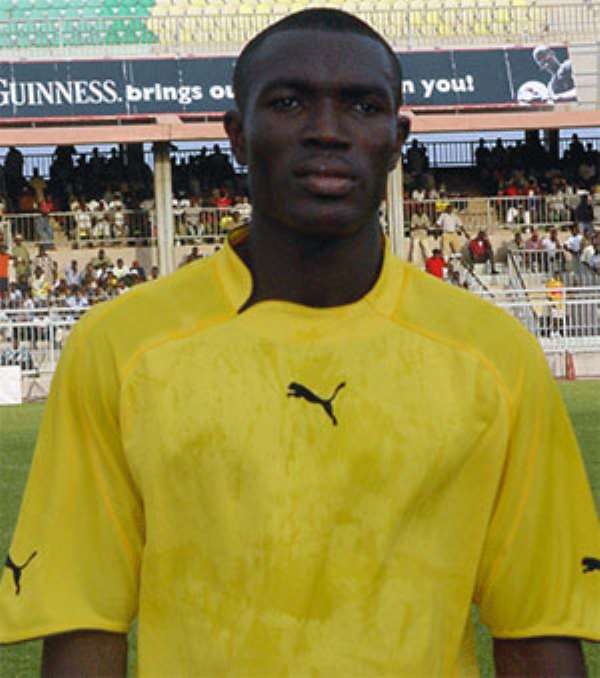 … Barreto receives a major boost from the foreign legion The head coach of the national U 23 team Professor Mariano Barreto is a happy man having received a major boost from the foreign based players, making the full compliment of his squad for the decider against Young Chipolopolo of Zambia.

The team manager of Black Meteors, Opoku Afriyie confirmed to SPACE FM that all the invited players have responded to the national call. The deadly striker of Armenia Belefield, Isaac Boakye (pictured) has reported to camp for the first time since featuring for the team in Accra against South Africa. The man who scored two beautiful goals against South Africa a couple of weeks ago, Razak Pimpong has also joined his colleagues in camp.
The rest of the foreign legions include John Paintsil, Addoquaye Pappoe, Patrick Villars and Razak Ibrahim.
A close monitoring from the camp of meteors by SPACE FM indicates that selection of the first eleven is a major headache of the technical team as every player in camp is a possible starter on Sunday, after four days of intensive training.
Meanwhile the team continues to receive extrinsic motivation from companies and organisations. Yesterday, KMA boss Maxwell Dwumah and the Assembly promised one million cedis each to the players if they won the match. Insurance giants, GLICO has given insurance package worth Two hundred and fifty million cedis among other benefits to the team.
The cracking game involving meteors and Young Chipolopolo would kick-off at exactly 1400 hours on Sunday.
Ghana and Zambia share the top spot with 10 points apiece but the latter leads on superior goal difference.
Apart from our live commentary in Akan, Space Fm in conjunction with our friends of Choice Radio in Zambia will bring live commentary in English to our numerous listeners in Zambia.