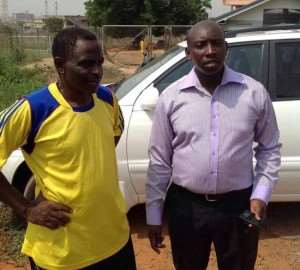 Mohammed Polo (left) and Neil Amstrong-Mortagbe.
Hearts of Oak Managing Director Neil Armstrong-Mortagbe has refused to clearly back under fire coach Mohammed Polo.
Polo was nearly attacked by exasperated by fans after the team's heavy 3-0 defeat to Wa All Stars at home on the resumption of the First Capital Plus Premier League on Wednesday.
Hearts lost by the same scoreline in the first round tie played at the Wa Park on 15 December.
"I am the MD of the club and a fan too and the situation Hearts find herself cannot continue," Armstrong-Mortagbe told Asempa FM.
"Something has to change the situation has to change we will go for a meeting today to access the situation we cant continue this way."